Every day Small Restaurants compete against Big Restaurant, Restaurant Groups and Restaurant chains.  Restaurant chains have lots of data to help their marketing people find new customers and turn them into repeat customers. They can slice and dice their customer data so that they can better target customers. They can identify trends and work out what works with Restaurant Marketing a lot quicker than a small Restaurant ever could.
At Marketing4Restaurants we want to help level the playing field for small Restaurants that don't have a big team of marketing people. We take all of the data from all of the customers that we help, anonamize it, and present comparative analytics and special reports, detailing what works it Restaurant market and what doesn't.
We provide our Small Restaurant customers with an unfair advantage because we know what works in Restaurant Marketing.
We provide key marketing KPIs and rank your Restaurant against your peers so you know how you are performing.
We provide best practice guidelines, both for the websites we build and the marketing campaigns that we run.  Much of this information we share with our customers.
We provide strong 'slice and dice' capabilities – want the email addresses of every customer ordering take out in the last 60 days, simple.  You can be marketing to these people in less than 60 seconds.
Our Campaign Tagging system allows you to truly understand what part of your budget is working and what isn't.
Our data collectors provide marketing campaign metrics that many companies like OpenTable and Just Eat can't – in fact many companies in this space try to hide where an online customer came from.
By creating Restaurant Databases, each of our customers are empowered to run some of the highest ROI (Return on Investment) campaigns they have ever run, quickly and simply.
Our Free Restaurant CRM system is making it easier than for Restaurants to find new customers and turn them into repeat customers by providing amazing customer service.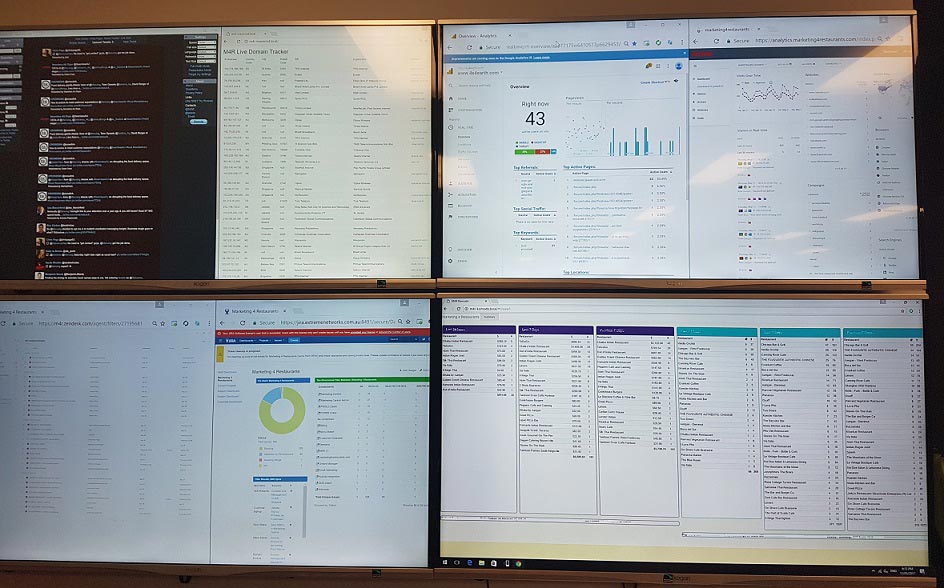 Our Restaurant Big Data Capabilities.
We have tracked over 10,000,000 data points of Restaurant Marketing, providing one of the largest datasets available for Single Location Restaurants.  The dataset isn't just web visits, Facebook posts, emails, online orders, bookings, customer preferences – it is all of that, and more and that is what provides the Big Data richness.  Small Restaurants are seeing their customers in ways that they have never been able to view them.  Many of the outputs are available free of charge, either through reports or on our Podcast, Secret Sauce, or freely available in some formats to users of our Free Online Restaurant Booking System and our Free Restaurant OnLine Ordering system.  The big data analytics allows Restaurants to not only understand their customers better, but to also understand how their compare to industry benchmarks.
Disrupting the Restaurant Industry
Unlike most of our competitors, we collect data on behalf of our customers.  This provides a huge advantage to our customers.  Whilst companies like OpenTable, Dimmi, Just Eat and Food Panda provide services like bookings and orders as the main part of their business, we provide the services for free, because that is not where we see the value in being.  The value is in understanding the data, understanding the customer and using the data to find more customers.
This is what is creating Restaurant Disruption as small independents without in house marketing teams are empowered and educated to the power of their of data and more importantly how to use it.
This is what excites us and it is what excites our customers around the world 🙂