Just Eats shares have slide 12.56% after releasing a pre-tax loss of £180 million, (AUD $321,000,000).  It also announced that it was going to invest £50 million in rolling out further delivery services in the UK, Australia, and Canada.
Just Eat 2017 Profit results
The financial results for Just Eat 2017 show an increase in revenue of 45%.
Profit was hit by the impairment on the Menulog business, which it bought in 2015 for $865,000,000.  This has been written down by $321,000,00, which The Telegraph is reporting is "due to outlook for earnings from Menulog to be materially worse than both this time last year and when the company was acquired back in 2015."
Analysis of the Just Eat 2017 results
Just Eat customers only order 8 times per year. This represents a significant opportunity but also highlights the risk to Just Eat as customers look to Order Direct and Save. The more often they order from a restaurant, they are more likely to try to build a relationship with the Restaurant, especially when there is an opportunity to order direct and save.  We see a trend in restaurants offering loyalty discounts along with discounts for ordering over the phone or using a platform like FROLO, the free restaurant online ordering system.
Analysis of the order data provided by Just Eat in their 2017 results highlight some interesting numbers.  We calculated EBITDA % (earnings before interest, taxes, depreciation, and amortization) and ARPO (average revenue per order), along with the profit per order across the 4 regions that Just Eat reports one.
The UK is the powerhouse of the profits.  Although only 56% of revenue, it is 95% of EBITDA. This could be expected as new and developing markets move towards maturation and profitability, except…
The established markets has the highest revenue per order but a very low profit per order. There is insufficient detail to work out why this is, but it could be related to higher marketing costs to offset the large amount of revenue per order that Just Eat is extracting from the restaurants. This highlights a risk for Just Eat as if the same profitability issues happen in the UK, there will be a significant decrease in profit. This would be a big question for investors – why is the EBITDA margin so low?
The average Restaurant takes 40 orders per week + the average customer only orders 8 times per year.
Both of these numbers indicate that customers are preferring alternative ways of ordering.  Some will still be using the phone, some will have migrated to competitors and more and more restaurants are migrating to platforms that cut out the middle man, saving money and bringing them closer to their customers. Restaurants are starting to push customers to order direct from their own website as it is cheaper and it collects the customers contact details.
The average Restaurant pays £6,634 every year in commission to Just Eat. We believe that this level of commission is unsustainable in a notoriously low profit industry.
Move to larger chains hurting traditional small restaurants.
In the UK, in an effort to increase the number of customers and revenue, Just Eat has attempted to win over the larger chain restaurants.  McDonald's decided to use Uber Eats for deliveries in the UK, partially because they don't want the hassle of employing all of the couriers required to deliver the food. The new CEO of Just Eat, Peter Plumb, is keen to increase orders with chains like KFC and Burger King, but the rolling out of the logistics infrastructure required to do home deliveries is something that it is unlikely these companies will want to undertake, leaving Just Eat unable to tackle this part of the market.
The move to cater for the larger chains runs the risk of decreasing the perceived requirement for the smaller restaurants to be on the platform if the number of restaurants on the platform increases faster than the number of customers ordering.
Just Eat to play catch up to Uber Eats and Deliveroo
Part of the plan for Just Eat is to invest in their own delivery technology.  This sees Just Eat starting from a long way behind the industry leaders, Uber Eats and Deliveroo who already have a not insignificant lead over Just Eat.  It also takes Just Eat away from the part of the online ordering landscape that is incredibly profitable, taking an order online and clipping the ticket 13%, and moves into providing deliveries, where Uber Eats and Deliveroo provide food logistics, charge 35% and a delivery fee to customers, and yet struggle to turn a profit.
Just Eat is planning to spend £50 million on developing the new delivery services.
Just Eat's changing business model.
We have argued in the past that the Menulog business model was a little out dated, something which Menulog accused us of misleading and deceptive conduct, but it would appear that the parent company, Just Eat, agrees with us with the move into delivery services.  Just Eats high commissions for just taking the online order, something that Restaurants can now do for Free, makes it difficult to articulate a value proposition for the restaurants, especially when the email addresses of the customers are not provided to the customers. The delivery charges from Uber Eats, et al, at 35% generally, are extremely high, potentially unsustainable for many restaurants, and still doesn't provide the customers email address, but it removes a massive headache for the Restaurants, which is the actually logistics behind the delivery of the food.
The free alternative to Just Eat:
If your looking for the best free alternative to Just Eat to take online orders on your own website, try our Free Restaurant OnLine Ordering system.
Commission free online ordering
No per-order or per-month fees
Collect your customer's email address
Supports Epson receipt printers
SMS notifications (fees apply for SMS)
Links to our restaurant CRM system
Take credit card payments, money in your account in 3 days
We've got customers in the US, Australia and the UK, some of whom are saving over $1,000 a month in commission.
No contracts – our customers use us because they love us!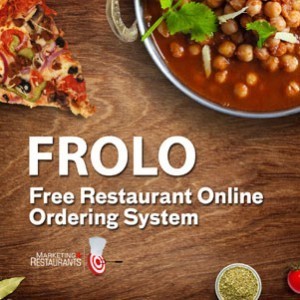 Take Out is an important revenue stream for many Restaurants. There is less work front of house in serving the customers and you aren't limited by the number of tables you have. Taking orders online decreases errors, frees up a staff member to serve customers rather than answer the phone and most importantly, it builds your Database. Many businesses offer online order tools for Restaurants, but nearly all of them want to clip the ticket on the way through, some charging 10% and they also take your loyal customers contact details. We think this is unfair and that's why we built FROLO, the Free Restaurant OnLine Ordering system. Start taking orders on your website today. It's quick and easy and best of all, it's free. FROLO is the perfect alternative to Menulog, Just Eat, Grub Hub, Delivery Hero, and Eat 24.
---
Is Poor SEO Killing Your Restaurant?
Too many times we see customers with websites that are costing restaurants thousands of dollars every month through poor design, poor messaging and poor SEO. If your website could be improved to bring in 200 extra visits per month and just 10% of those made a booking, and each booking was for 2.5 seats on average at $50 a seat, you would have an extra $2,500 in revenue a month. A 30% food cost, that is $1,750 in profit extra a month. This ignores those customers coming back as regulars – which is more profit.
Remember, if these customers aren't finding your Restaurant, they are finding your competitors.
Get one of our obligation free 7 point website SEO audits to see what you can get your web developer to fix to increase your revenue today.