The Marketing4Restaurants team, as part of our move into our new 520 square meter office has launched a new Marketing Operations Centre to enable us to better understand the increasing flow of Restaurant marketing information that comes into our database each day.
The Marketing Operations Centre consists of custom software written to aggregate data and 4 4K TVs to display the data in real time.  The display is customisable so as the day progresses, it allows the team to focus on the information that they need.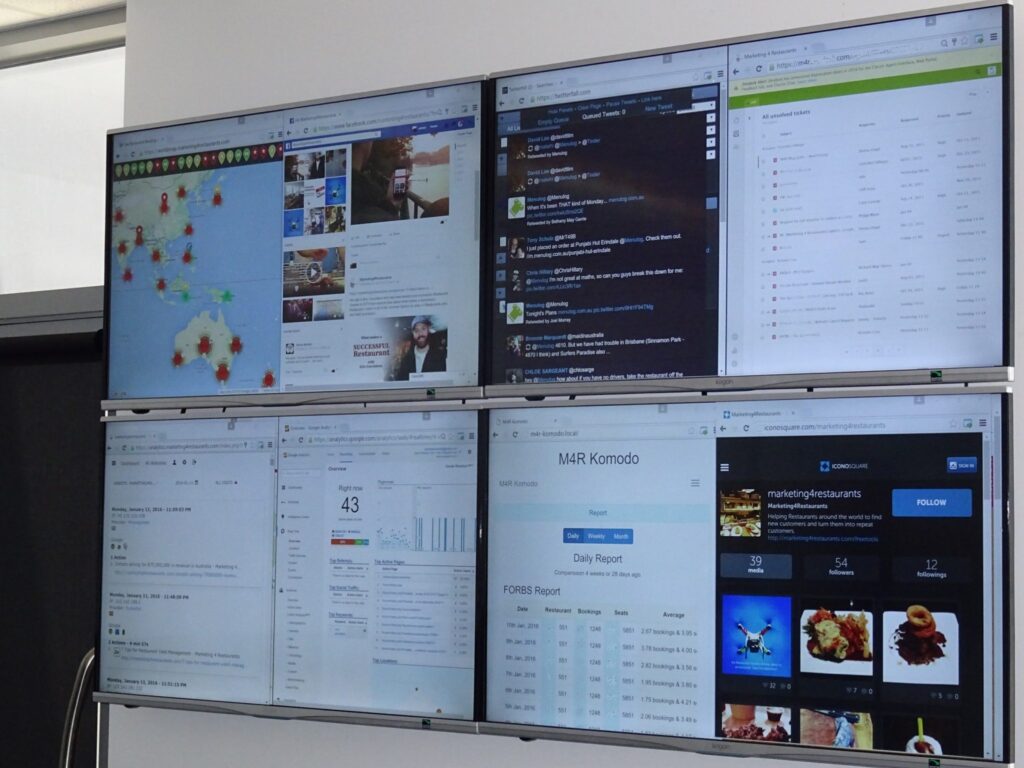 The Marketing Operations Centre allows for real time monitoring of marketing campaigns
Information currently being monitored includes:
Realtime orders generated by FROLO, the Free Restaurant Online Ordering System;
Realtime bookings generated by FORBS, the Free Online Restaurant Booking System;
Realtime visits to customers websites;
Social Media campaigns for restaurants, including Facebook, Instagram and Pinterest;
Current support requests from customers, both technical website support requests and marketing assistance requests;
Real time data from the World Map which shows aggregated data of restaurant diners look at Restaurant websites around the world;
Data queries from our Big Data warehouse which provides insights about current Restaurant marketing trends, including how websites are found and what increases the traffic numbers for a Restaurant website; and
A range of proprietary KPIs and insights we have developed to assist in Restaurant Marketing.
"The launch of the Marketing Operations is a big step forward for the Team, and allows us to provide an even bigger advantage to Restaurants using our services over their competitors," said James Eling, founder of Marketing4Restaurants.
"Every week we are seeing increasing order numbers in FROLO as Restaurants choose a commission free solution for online orders and our online booking system has now taken over 300,000 seats of bookings, saving Restaurants hundreds of thousand of dollars and the shear volume of marketing data associated with these transactions is massive, so we really needed a great system to be able to visualise the data and really determine what makes a successful Restaurant – The Marketing Operations Centre gives us that capability."
Launched this week, the team is already finding new insights to successful online Restaurant marketing, particularly around SEO (Restaurant Search Engine Optimisation.)
The old Marketing4Restaurants office wasn't able to cope with the growth in team members over the last 2 years and as Marketing4Restaurants launched it's services in New Zealand and as more countries are bought into the M4R family, more staff will be needed and a new office was required.  The team planned an office with space to triple the headcount over the next 3 years.
The office includes a dedicated space for the production of Secret Sauce – The Restaurant Marketing Podcast, which has been an incredible success, being downloaded in 67 countries and has rapidly becoming the number 1 podcast that Restaurant owners are turning to when looking for ideas and inspiration to find new customers and turn them into repeat customers.
---
Is Poor SEO Killing Your Restaurant?
Too many times we see customers with websites that are costing restaurants thousands of dollars every month through poor design, poor messaging and poor SEO. If your website could be improved to bring in 200 extra visits per month and just 10% of those made a booking, and each booking was for 2.5 seats on average at $50 a seat, you would have an extra $2,500 in revenue a month. A 30% food cost, that is $1,750 in profit extra a month. This ignores those customers coming back as regulars – which is more profit.
Remember, if these customers aren't finding your Restaurant, they are finding your competitors.
Get one of our obligation free 7 point website SEO audits to see what you can get your web developer to fix to increase your revenue today.