Is Menulog, Deliveroo and UberEats killing your local Restaurants?
Consumers are becoming increasingly concerned about the long term effects on the Restaurant industry of online ordering and delivery aggregators like Menulog, UberEats and Deliveroo.
The Age has 2 articles detailing the negative effect on Restaurants, one about the demise of Foodora in Australia, and another talking which describe the aggregators as Parasites.
Our research has indicated some of the practices that restaurants are experiencing.
Menulog generally charges 13.5% commission to the Restaurant.
UberEats and Deliveroo charge 35% commission.
UberEats and Deliveroo provide a delivery driver or rider to deliver the meal.
Menulog DOES NOT generally provide delivery, although it is trying to catch up to UberEats by building a network of delivery drivers.  This service will cost Restaurants a lot more than the 13.5% commission.
All of these companies refuse to give the Restaurant the email address of the customers.
In fact, Menulog no longer even provides the phone number of customers.
Menulog conducts numerous brandjacking campaigns, creating websites which some customers believe is the Restaurants websites.
Restaurants also struggle when the aggregators run adwords arbitrage campaigns.
Menulog does not provide the phone number of the Restaurant.
The delivery aggregators face multiple legal actions for sham contracting.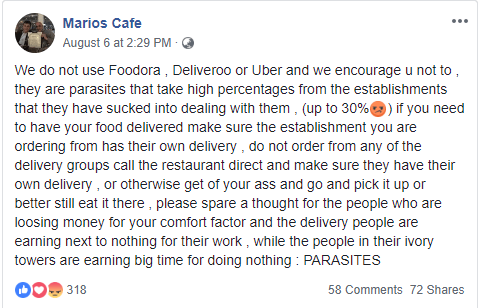 The Restaurant Order Direct and Save Campaign.
It's 2018 – taking orders online is freely available to Restaurants using tools like FROLO, the Free Restaurant OnLine Ordering system.
Customers need to think about the impact on the Restaurant of the high commission.  Talk to your local Restaurant and start ordering by phone or talk to them about FROLO, the Free Restaurant OnLine Ordering system.
It will help your local Restaurant get closer to you, save them money and help them to keep cooking the great food that everyone loves.
When a customer orders direct they are likely to get a cheaper meal of higher quality and the Restaurant is more likely to be profitable and sustainable.