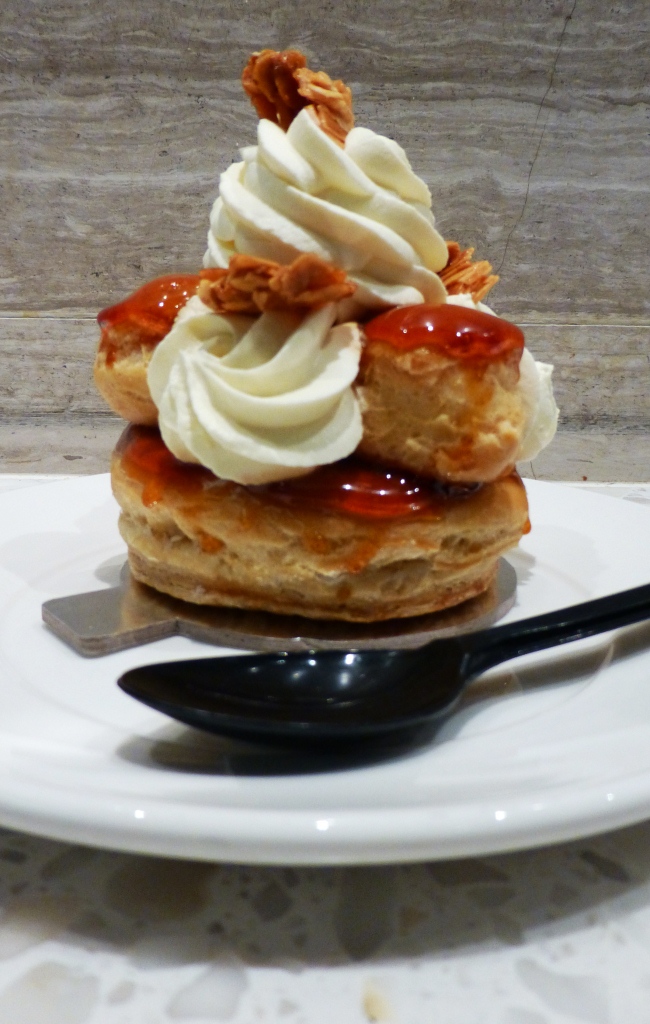 A great dessert from Becasse Bakery. The Bakery and Charlie and Co survived,but sadly nothing else in the group.
In the wake of the collapse of Justin North's Becasse and associated businesses, with only Charlie and Co and Becasse Bakery surviving to be sold to Jones the Grocer for $430,000, with the dust starting to settle, it is probably worth while looking at some of the general principles of running a business and see what we can do to help all of the others out there, struggling to cook great food and make a dollar at the same time.
According to news.com.au, employees are owed about $990,000 in super, some of which has only been partially paid from 2006.  The staff have shown incredible loyalty to the businesses when a lot of signs that the business was in trouble became apparent.  Regular deliveries ceased in April and some foreign workers had difficulty redeeming super in January when they were leaving the country.
According to the Fin Review article on July 21, there are 200 trade creditors and 180 staff and a deficiency of funds of $4.3 million.  It turns out that Becasse restaurant had been losing money since 2009.  In 2011 it lost $318,646 on $4.6 million in turnover, for a profit margin of -6.9%.
At Etch, employee costs were 65% of turnover, leaving just 35% to pay for rent and other overheads and food.  This is a very high figure and creates a massive burden on the company to increase turnover to be able to meet all of the costs.
Hindsight is a wonderful thing, but with hospitality struggling, what lessons can be learnt from this?
Have control over the numbers.  The increase in fine dining businesses closingly down signal an end to the artist chef.  The margins are just too small to be able to run a business without effective cost controls.  Business owners should review the numbers regularly, monthly, if not weekly, to determine where the money goes and react accordingly.
Get access to management expertise.   Restaurant, café and take away owners need to get access to the skills required to run a business.  Either the chef can skill up, rely on a business savvy partner or build an advisory board.  Especially in a fine dining establishment, building an advisory board that meets quarterly, gets a free meal in return for going over the figures and offering advice and support.  It makes the job less lonely and the owner can leverage the diverse range of skills, talents and contacts that an advisory board will have.  Is this one of the reasons that George Calombaris is so successful; he is part of a team that runs the business.
Have a plan.  Have a business plan, show it to people, get their feedback. Plan for the good and the bad.  Work towards realising what is in the plan.  Remember if you fail to plan, you plan to fail!
Don't pay lip service to marketing.  Some restaurants have a build it and they will come attitude, which is great if you are a Chin Chin, but 99.9% of restaurants don't have the Restaurant X Factor of a Chin Chin to be able to fill lines of adoring guests night in and night out.  For the rest of restaurants and take aways, there needs to be a marketing plan with a diverse range of attracting new customers and turning them into repeat customers.  Identify the 3G's of your offering and work relentlessly towards delivering on it.  Have a USP and work relentlessly on delivering on that to!  Pay attention to the marketing to ensure you are getting the customer numbers that you planned on in your business plan.
Monitor the environment:  If there is a GFC, or customers stop paying for your high priced degustation, take note and react.  Change the menu, change the pricing, look for new alliances, new ways of finding customers, cut staff numbers or changes the opening hours.  The environment in which we all work is dynamic and your business and your business plan need to be as well.  Make changes accordingly so that you will still be around when the bad times end and you can ride the boom times again.
Running a Restaurant or Take Away is incredibly difficult.  The hours are long the margins are slim, and the paperwork never stops coming, but with these few tips, hopefully you can increase profits and maybe work a couple less hours per week.
---
Is Poor SEO Killing Your Restaurant?
Too many times we see customers with websites that are costing restaurants thousands of dollars every month through poor design, poor messaging and poor SEO. If your website could be improved to bring in 200 extra visits per month and just 10% of those made a booking, and each booking was for 2.5 seats on average at $50 a seat, you would have an extra $2,500 in revenue a month. A 30% food cost, that is $1,750 in profit extra a month. This ignores those customers coming back as regulars – which is more profit.
Remember, if these customers aren't finding your Restaurant, they are finding your competitors.
Get one of our obligation free 7 point website SEO audits to see what you can get your web developer to fix to increase your revenue today.