Sadly, Justin North's restaurant portfolio has been place into voluntary administration, according to the Australian Financial Review. The North Group, which includes Becasse, Quarter 21, Becasse Bakery, Le Grand Café and Charlie and Co, had appointed Ferrier Hodgson as the administrators. The group also included Quarter Twenty One Providore which provides ready-to-make meals for time poor workers and The Cookery School, according to the Australian Financial Review.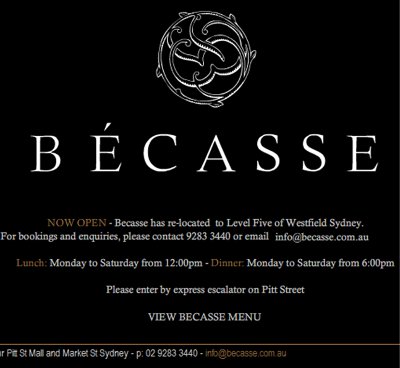 The group is expected to trade whilst the administrators conduct their assessment of the financial state of affairs. According to the Fin, the North's sunk $4 million into Becasse at Westfield in 2011 and needed to turn over $150,000 to $200,000 per week to be profitable. $150,000 per week is $21,000 per day, which is 123 diners buying on average the $170 degustation menu. 123 diners every day is quite a number to get through the door. The Fin Review article went on to quote Westfield as saying that Becasse, Becasse Bakery, Quarter 21 and Charlie and Co had all traded very strongly and Westfield is hopeful that the business will be able to trade out of difficulties.
This continues a string of high profile closures, including Manly Pavilion, Milsons and Tony Bilson's restaurant. It is always a tragedy to see a business go into administration and our thoughts are with Justin and his wife Georgia in what would be a very troubling time for them and very stressful also for all of their employees too. It is sad to see a 3 hatted restaurant end up in difficulty like this.
According to Alexa, Becasse had an Alexa ranking of 3,049,252 and had 183 sites linking in to it and a Google Page Rank of 5, which is about what you would expect for a high profile chef's main restaurant, such as Becasse was. How many people where going to the website and were not able to find the information that they require?
This is want visitors with a crashed Flash plugin with their browser see. There is no real indication they are missing out on the website. It is almost as bad for those without Flash.
The photography found at www.becasse.com.au, is definitely of the quality you would expect of a 3 hatted restaurant. The photos are sumptuous and make you feel very hungry, but the website is in Flash. Flash is a technology that was used to build multimedia content, but has been rapidly overtaken by technologies like HTML 5. What does this mean for a restaurant owner? It means that a lot of people can't see your website! To make matters worse, the menu's where all stored as PDFs. Any computer or phone that can't support PDFs would not be able to see them and phones that do support pdf.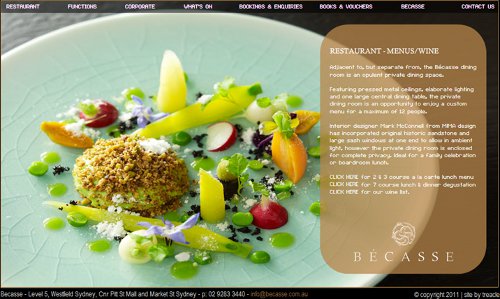 The photography on the website is very high quality.
Justin told the Fin Review "I think the biggest issue with us and probably others as well, [is that] from Thursday, Friday, Saturday, restaurants generally do very well."
The website doesn't support mobile phones very well at all. For general restaurant websites, we are finding 20% of visitors. Now Becasse is not an impulse destination. I suspect very few people do a google search and wander in for a $170 degustation meal, but the integrated marketing of Facebook, Twitter (Justin has 6,509 followers) and the website should have meant a strong subscriber base that is ideal for marketing yield optimisation strategies. iPhone visitors to the site do not see any of the tabs across the top of the site, so they miss out on much of the information. The menus are displayed in PDFs which are appear very small on the phone. For businesses that are not able to attract enough customers on Monday, Tuesday, Wednesday, a strong database is gold. You can then come up with a range of ideas that can really drive strong utilisation across those quite times. What about a French wine tasting night, the first Tuesday night of the month?
Theme nights, speaking evenings and association dinners are all old tricks of the trade and with a strong database and social media following, they can be extremely effective.
How many people were turned off because the website did not work on their browser?
How many people would have gone to a special dining evening on a Tuesday night if they knew about it?
How many people planned a fine dining night out but didn't think of Becasse because the search optimisation and use Flash meant that it was featuring as highly as it should in Google Search?
The Becasse Facebook page has 1,034 likes which is pretty good, but I suspect would have been a lot higher if there was a link from the website.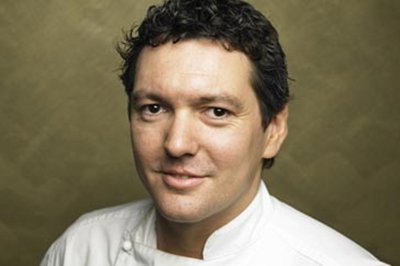 Justin North, owner of Becasse in Sydney.
With Becasse continuing to trade, hopefully the administrators will be able to get the debt levels sorted out and increase yield utilisation on Monday, Tuesday and Wednesday so Justin's great restaurants can continue on. It would be a terrible shame to see them shut. Good luck to Justin and the team and hopefully on of the icon's of Sydneys fine dining scene can continue for years to come.
Here are some tips on how Marketing4Restaurants can help you find more customers.
---
Is Poor SEO Killing Your Restaurant?
Too many times we see customers with websites that are costing restaurants thousands of dollars every month through poor design, poor messaging and poor SEO. If your website could be improved to bring in 200 extra visits per month and just 10% of those made a booking, and each booking was for 2.5 seats on average at $50 a seat, you would have an extra $2,500 in revenue a month. A 30% food cost, that is $1,750 in profit extra a month. This ignores those customers coming back as regulars – which is more profit.
Remember, if these customers aren't finding your Restaurant, they are finding your competitors.
Get one of our obligation free 7 point website SEO audits to see what you can get your web developer to fix to increase your revenue today.