It is always sad when a restaurant closes and so it was sad to see that Clara and Co has closed in Westfield Sydney.  A restaurant like Cara & Co is a big group of people pouring their heart and soul into a restaurant trying to create a great experience for their customers, so when it closes, they all lose their jobs which is very stressful.  The purpose of this article is to hopefully educate restaurant owners on some of the ways that they can improve their online marketing to hopefully stop the number of closures, which sadly, are far too frequent.  We haven't eaten at Cara and Co, so we won't comment on the service or the food, but there isn't anything to suggest that it was an issue – seemed like a great restaurant.
Firstly, location.  We have seen closures in Westfield stores before.  The location isn't great because the concept of the restaurant is to bring customers into the shopping centre.  The restaurants are generally placed at the top of the shopping centre, ensuring a long walk to get there, past a lot of rent paying shops looking for good foot traffic.  This means in general that the restaurant needs to be a strong destination restaurant.  This means a strong brand, great database and great SEO to capture as many potential customers as possible.
Let's look at the brand.  Cara & Co is leverage a premium brand but how well does the restaurant fit in with that brand.  It isn't entirely clear.  It isn't clear either what cross promotion opportunities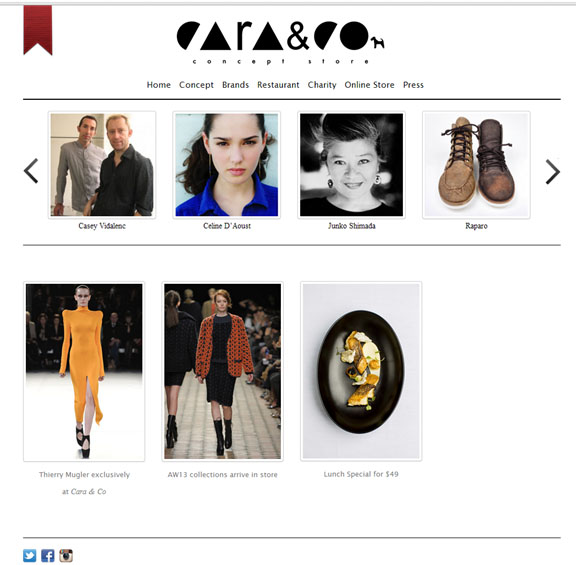 Restaurant website page that doesn't help with the SEO.
The website is a type that we see all too often.  A bit of a mishmash with the restaurant given 1 or 2 pages.  This doesn't help with the SEO because Google can't really tell what the website is about.   There is very little text.  Text for restaurant websites is critical because it tells Google what the website is about and helps Google to direct the right type of customers to the website.  There is no Google Places, not enough text, no real story about what the restaurant is about and no niches targeted.  Niche marketing with your SEO is a quick and easy way to find more customers and customers who will be more loyal.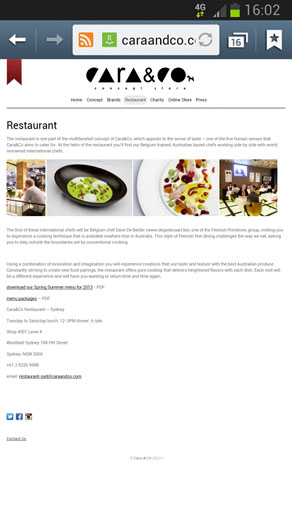 The website is not optimised for mobile.  For people wanting more information about the restaurant, or to find somewhere to eat whilst out, this is very important, as over 29% of restaurant websites visitors are on a mobile.
The menu, which by the way looked really good, "The Beef between Heaven and Hell", with Smoke – sounds really interesting, but it is a PDF.  These are not great for mobiles and are difficult to edit as well, so definitely not best practice.
The Cara & Co website on a mobile.  Very difficult to read.
The other component of their website that covers the restaurant is the online bookings.   They were using Dimmi.  We have spoken before about the issues with using Dimmi for online bookings, but it would be interesting to know what the added costs where to Cara & Co to use the booking system and how many of their customers who had made a booking, and then received a discount coupon from Dimmi for one of their competitors located nearby.  The value proposition of Dimmi for Dinners is very powerful – they can offer discount coupons to the kind of restaurants you like in the area you like to eat, because they have your previous bookings history, but for a restaurant this can be highly corrosive to ongoing customer loyalty.  When Dimmi introduces a new customer to a restaurant, that is fantastic and the restaurant should pay for that, but giving up your customers contact details when they make a booking through the restaurant website is only one step away from sharing your database of customers with your competitors, and paying for the privilege, so not a great idea.
Cara & Co is very sad, as any restaurant closing is, and we don't know any of the back story, but the online strategy is something that may have been improved to help drive more customers to the restaurant.   Hopefully there are some ideas here about how online marketing can be done a little better.  If you are struggling, reach out for help.  Many of our customers have seen a 3 times increase in web traffic after coming across to our online marketing toolbox, which is designed for restaurant owners specifically.   It is quick and easy to use and the packages are at a price point that makes sense for restaurant owners.
---
Is Poor SEO Killing Your Restaurant?
Too many times we see customers with websites that are costing restaurants thousands of dollars every month through poor design, poor messaging and poor SEO. If your website could be improved to bring in 200 extra visits per month and just 10% of those made a booking, and each booking was for 2.5 seats on average at $50 a seat, you would have an extra $2,500 in revenue a month. A 30% food cost, that is $1,750 in profit extra a month. This ignores those customers coming back as regulars – which is more profit.
Remember, if these customers aren't finding your Restaurant, they are finding your competitors.
Get one of our obligation free 7 point website SEO audits to see what you can get your web developer to fix to increase your revenue today.