So we were looking for somewhere to a couple of nights ago in Sydney. Not really too sure what we wanted and we were wandering aimlessly, when we came across Dan's House. It has been a while since we had a good Peking Duck and so we thought we would give them a try.
I am no food critique, and I don't normally write reviews, but I have eaten in a few restaurants, I do like Peking Duck and I know what I like. These are my thoughts, because I want to compare them with the reviews on Eatability.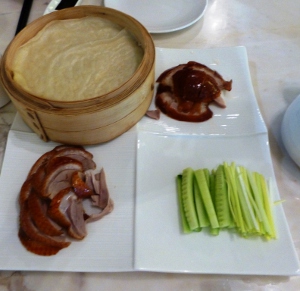 The Peking Duck at Dan's House. Great presentation and pretty good Duck for Australia.
The meal was pretty good. Not as good as 1942 in Beijing, but that is a serious Beijing Duck restaurant, but I don't think the duck at Dan's House it is too far off Quan Jude in Beijing. Quan Jude had the crispy skin in sugar, which is amazing, but the actual duck was similar. I would have liked to see a little more duck for the price, but it wasn't too bad value. I have to say, though, the dessert was really good. It was an apple fritter with toffee, very nice. The fritters reminded me of fritters my Nan used to make and the toffee was a great accompaniment. The meal wasn't too expensive, but the main thing was there is no alcohol available. In my best broken Mandarin I tried to order two Tsing Tao, but sadly the best we could do was Green Tea. The restaurant has only been open a month or two, and we did have to ask about our Duck Soup, but apart from that, I thought it was a really good meal, just could have been a little more duck. Loved the dessert.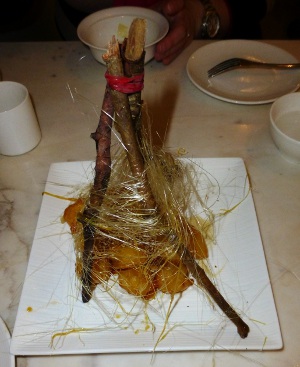 The Apple Fritters taste as good
as they look!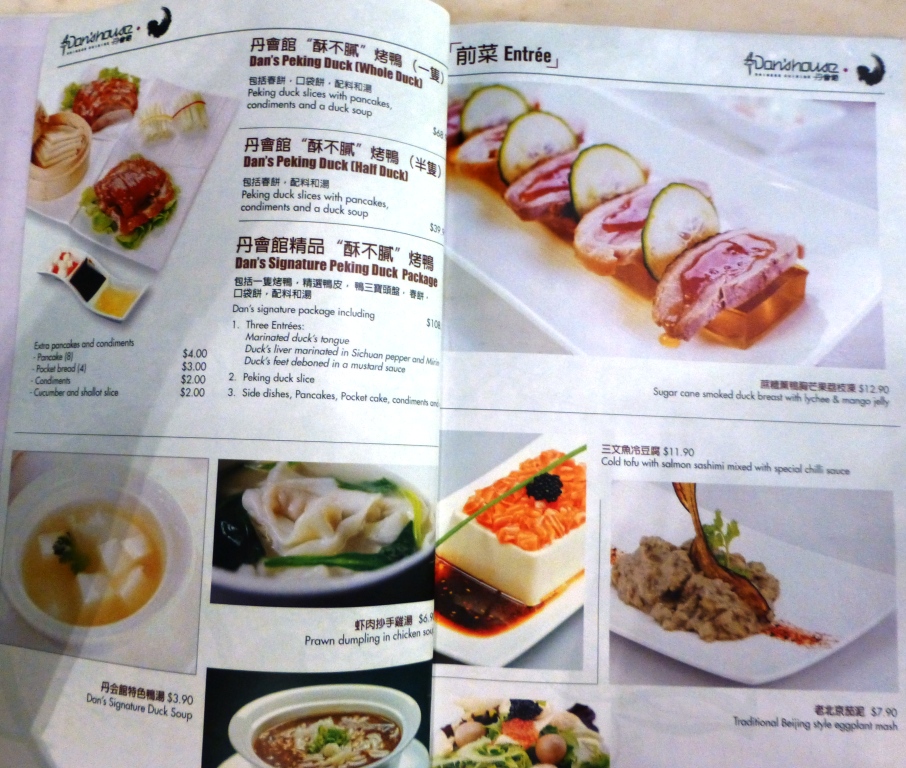 Chinese Restaurants often have great menus
with excellent photos and Dan's House has an exemplary menu, very well laid out.
Here is a review on Eatability:
1.3 Not Recommended
Food1 Ambience2 Service1 Value1
Absolutely awful. Will never return. We order a whole duck only to have it arrive last and after an hour from when our mains were finished. Mains we ordered veggies (bland) and steamed fish (three pieces). The duck came already sliced in two separate plates. This is usually never the case (and I'm Asian) when a whole duck is ordered. It's like they gave us 2x 1/2 sized orders. Duck was cold, skin was soggy and sliced in a BBQ duck way (more meat than skin), than a Peking duck (flat pieces of skin w/ little meat).
When we asked if this is normal, our waitress replied "I'm from Beijing. And that's Peking duck. And that we should have ordered the special ($108 – came with duck kidney n feet) instead of the whole duck ($68) for proper skin. She then turned and walked away. There are better places for Peking duck and at much cheaper prices.
Jun 10, 2012
The overall reviews for Dan's House are:
Food 4.5
Ambience 5.9
Service 3.9
Value 3.6
Wow, are the rest of the restaurants so much better in Sydney than this? I suspect not. The problem with review websites is that they are highly susceptible to people putting up reviews to bring down the average.
Two of the worst reviews for Dan's House had interesting histories. The person above has only rated 1 restaurant, Dan's House and the other rating that was extremely low had only rated 2 other restaurants, all on the same day. Restaurant owners have a lot riding on the getting reviews that are better than their competitors and there is a big incentive to ensure that their reviews are great and that their competitors get a poor review. It is not uncommon for the reviews, like all user generated content forums, to degenerate into flame wars between reviewers.
Dan's House is new and like all new restaurants, they are probably still ironing out some of the kinks, but did I enjoy the meal? Yes. Would I go back there? Yes, I do want to try some of the other meals that are so well presented in their excellent menu. I was watching what was being bought out to other tables and the sights and smells were very exciting. Were the Eatability scores useful? Not at all! I quite liked this restaurant and would be happy to eat there again, and yet it scores are very low. Admittedly this is based off only 5 reviews, but Dan's House is being displayed with an average rating of 4.9 compared to all of the other Chinese Restaurants in Sydney.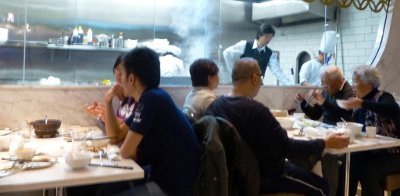 A view of the kitchen where they turn out great duck and desserts!
One thing that is a much better indicator than an Eatability score of how good a Chinese Restaurant is, it was full of Chinese families J. We liked it and it looked like everyone else in the restaurant was having a great time with their meals as well.
What can Restaurants do when it comes to bad reviews?
Firstly, try to minimise the chances of someone who is looking for your restaurant, finding reviews sites. A well layed out site with great search optimisation should display a lot more information about your restaurant, leaving the review sites lower down in the search results.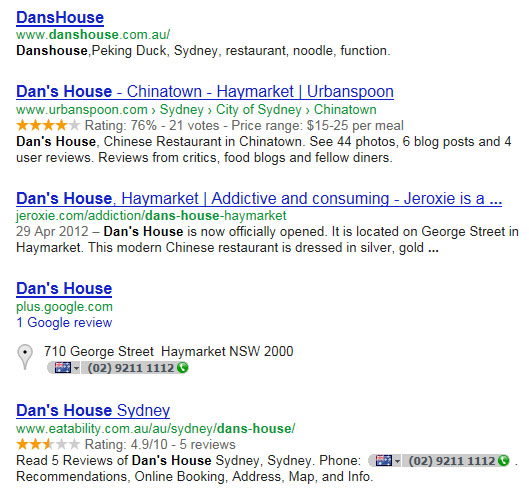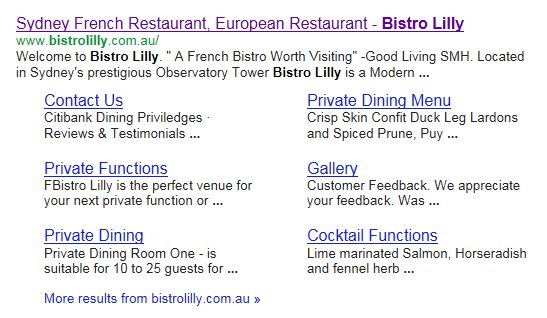 The difference a well layed out site can make. All of the references for Bistro Lilly refer back to their website, give them control of their online reputation. Marketing4Restaurants configure the websites to maximise the chance they display like this in Search results.
You may not be able to control the feedback that is on the review sites, but your own site should give you access to feedback, good and bad, and allow you to publish the great feedback so that everyone can see what a great experience your restaurant provides. Remember, bad feedback is great, because it gives you feedback about your business and the opportunity to improve, you just don't want everyone to see the bad feedback. Your website should provide a mechanism for getting feedback. Some restaurants take a tablet to the table with the bill so that people can like them on Facebook. Your website should provide customers with an opportunity to provide feedback and you should encourage customers to leave feedback.
Remember, you website is just one avenue for finding more customers. You should be building your database, gathering email address, twitter followers, Facebook likes, birthdates, and mobile phone numbers. The more information you have about your customers, the more avenues you will have to reach out to them and work towards turning them into repeat customers.
Marketing4Restaurants helps you develop all of these channels of marketing.
Here are some tips on how Marketing4Restaurants can help you find more customers.
---
Is Poor SEO Killing Your Restaurant?
Too many times we see customers with websites that are costing restaurants thousands of dollars every month through poor design, poor messaging and poor SEO. If your website could be improved to bring in 200 extra visits per month and just 10% of those made a booking, and each booking was for 2.5 seats on average at $50 a seat, you would have an extra $2,500 in revenue a month. A 30% food cost, that is $1,750 in profit extra a month. This ignores those customers coming back as regulars – which is more profit.
Remember, if these customers aren't finding your Restaurant, they are finding your competitors.
Get one of our obligation free 7 point website SEO audits to see what you can get your web developer to fix to increase your revenue today.