We once had a restaurant owner tell us that his restaurant's website and online marketing was working brilliantly because he had 100 visits a month. He was shocked when we told him that we had customers who received that much traffic in 1 day. Restaurant owners have not had access to information about how much traffic the average restaurant website gets every month – that is, until now.
Marketing4Restaurants now sends an email to each of our customers each month, including customers using our free online restaurant booking system that details their ranking in a number of important numbers for their online marketing. We thought it critical to provide our customer with the Restaurant marketing benchmarks that they need to be successful.
For the first time ever, restaurant owners are able to understand how they compare against other restaurants in 3 important areas:
• Visitors to the restaurant website
• Bookings made online
• Facebook likes
This is the first version of our report and we plan on making it a lot more detailed over the next 12 months to help restaurant owners understand how well their marketing is working. Please let us know if you have any ideas on what you would like to see in our Online Marketing Report.
Remember – the average Marketing4Restaurant customer receives more website traffic than the average non Marketing4Restaurant customer, because of our great technology and process for helping you to find more customers and turn them into repeat customers. We know this because we track the increase in web traffic to new customers sites and we can see how many more customers are visiting the websites. A Marketing4Restaurant customer receive significantly more traffic than the average restaurant website.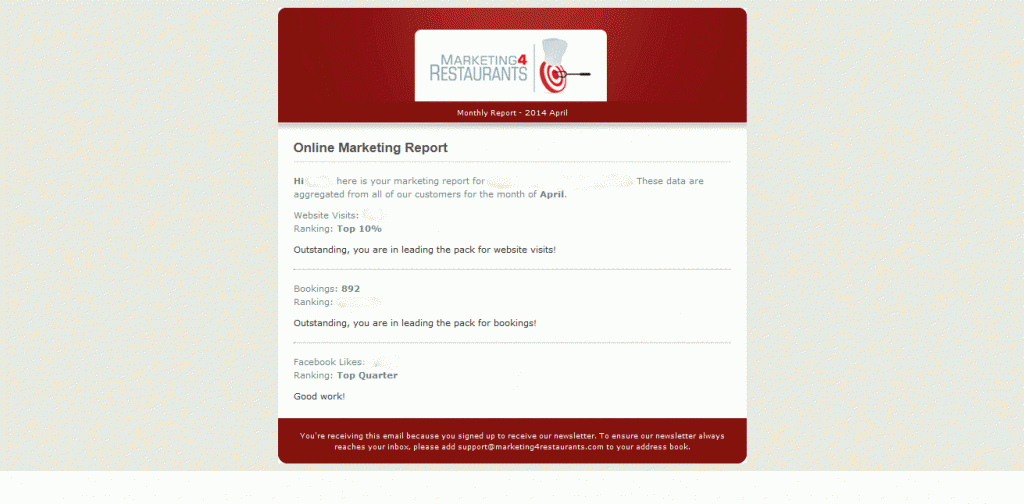 Our Online Marketing Report makes it easy for restaurant owners to understand how effective their marketing is and what areas they can improve on.
If you aren't receiving the Online Restaurant Marketing Report, then you're at a serious disadvantage because you don't have the benchmarks.
Email our team of restaurant marketing experts to find out how you can start accurately measuring the effectiveness of your online marketing.
---
Is Poor SEO Killing Your Restaurant?
Too many times we see customers with websites that are costing restaurants thousands of dollars every month through poor design, poor messaging and poor SEO. If your website could be improved to bring in 200 extra visits per month and just 10% of those made a booking, and each booking was for 2.5 seats on average at $50 a seat, you would have an extra $2,500 in revenue a month. A 30% food cost, that is $1,750 in profit extra a month. This ignores those customers coming back as regulars – which is more profit.
Remember, if these customers aren't finding your Restaurant, they are finding your competitors.
Get one of our obligation free 7 point website SEO audits to see what you can get your web developer to fix to increase your revenue today.