We have discussed previously what happens when a customer books on your website through Dimmi and the emails that Dimmi send out to your customers once they make a booking with your restaurant.
Is this the start of something bigger?
Dimmi's business model is to charge a monthly fee and a fee per seat booked.  Most restaurants know and understand this.  We are seeing though an increasing backlash from the sharing of those customers' details with other restaurants by pushing out coupon offers such as the one below.  These 50% of deals go to people who have made a booking at other restaurants.  When a customer makes a booking through Dimmi, Dimmi sees them as their customer; the restaurant is really just used for service provision.  This is not ideal for restaurants, because it decreases the value put on the level of food quality and the experience at your restaurant and greatly decreases customer loyalty.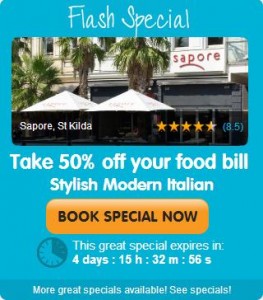 How can you maintain customer loyalty when your customers get offers to similar restaurants in the same town with 50% of coupons?  Is this why your customers who book online are not coming back?
Dimmi received funding from the Venture Capital arm Telstra in 2012.  The goal was clearly to build a database of all diners in Australia and then clip the ticket for every seat that is booked.  This is a massive opportunity but the $64 question is whether it is a sustainable business model.  The $1 – $3 per seat charge is a massive unfair tax on restaurants, and the restaurant industry is one industry with a massive struggle for profitability.  Don't forget that many restaurant every month also pay for no shows!  Providing coupons to a restaurants competitors using details the restaurant themselves provided, we believe is inherently unfair.
I recently spoke to one restaurant owner who was shocked to find out that their customers contact details would be used by Dimmi to offer discount coupons to similar restaurants (their competitors) in the same area.  As more restaurants discover why they have had decreasingly loyalty since Dimmi introduced their 'Flash Specials' we believe more restaurants will get all of the benefits of online booking through our Book A Table feature, which does not charge per seat or per table and is bundled free of charge with our great online marketing packages, enabling them to build their customer database automatically without having to share those customers details.
The number of struggling restaurants who turn to Groupon, Scoopon and the host of other daily deals sites to try and bring in some customers and desperately needed cash flow has a significant negative impact on the industry.  It appears that some restaurants are doing the deals with the aim of surviving on the non-redemptions of the offers.  Group buying sites sell their product as a way of introducing new customers to your business, but anecdotally restaurants find it very difficult to win these customers over, because they are deal and low price driven.  They would much rather decide on the location of their next meal based on the next coupon they receive, rather than a great meal that they had.  Their loyalty exists to the next restaurant running a coupon campaign.
We believe that the message is clear for all restaurants, they either need to move down the Coupon driven model and accept that they are effectively purchasing low loyalty customers from Dimmi, along with sharing their customers contact details with them (and paying for the privilege!) or ensure that they protect their customer database, protect their intellectual property and protect the value proposition that they have.  Not everyone wants a 50% of meal deal – some people want great food and a great experience.  Of course there needs to be value there, but value is different to price.
Marketing4Restaurants provides Australia's largest online booking service for restaurants which does not share customer contact details with other restaurants.  Our business model is clearly different.  Our customers are restaurant owners like you,  and we want you to get more customers and turn them into repeat customers (whether they book online, by phone, carrier pigeon, ESP or just walk in).  Great restaurants shouldn't be sharing their customer details with poor quality restaurants.  Start protecting your customer database today!
All the advantages of online bookings
Build your own customer database
No per seat or per table charges
Don't pay for no shows
Included free for customers using our web marketing packages.
---
Is Poor SEO Killing Your Restaurant?
Too many times we see customers with websites that are costing restaurants thousands of dollars every month through poor design, poor messaging and poor SEO. If your website could be improved to bring in 200 extra visits per month and just 10% of those made a booking, and each booking was for 2.5 seats on average at $50 a seat, you would have an extra $2,500 in revenue a month. A 30% food cost, that is $1,750 in profit extra a month. This ignores those customers coming back as regulars – which is more profit.
Remember, if these customers aren't finding your Restaurant, they are finding your competitors.
Get one of our obligation free 7 point website SEO audits to see what you can get your web developer to fix to increase your revenue today.