At Esquire, you expect great food and we got that, but when you are paying as much as Esquire charges, you really need more than that.  The food was great, awesome in fact, but what really made the night was the Sommelier.  When I commented that night to the maitre d' he told us that our Sommelier was just 21 years old, which amazed us.  The value I think of a degustation is to go on a journey which plays to the chef's strengths.  This produces the great food, and it should be great, but the Sommelier acted as the narrator, pointing out the highlights, not just of the matching wines, but also the food.  He asked at the start of the night if we were happy to mix things up a little and we told him to try his best, and he did.  We had sake, we had beer, we had an unnamed wine which he asked our opinion of. We thought it was great and then he revealed that it was a Queensland Chardonnay.  It was amazing that someone so young could strike the right balance of being there when required, not being there when not and asking the right questions at the right time.  He made a good night with great food exceptional.  That was why the next day when we thought about the bill, we thought wow, that was really good value.  More restaurants with degustation menus need to think about the experience that they provide because at the top end of town, there are lots of restaurants with great food, it is the great experience that makes the difference.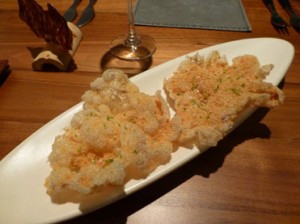 The sommelier at Esquire turned the food and wine into a journey.
---
Is Poor SEO Killing Your Restaurant?
Too many times we see customers with websites that are costing restaurants thousands of dollars every month through poor design, poor messaging and poor SEO. If your website could be improved to bring in 200 extra visits per month and just 10% of those made a booking, and each booking was for 2.5 seats on average at $50 a seat, you would have an extra $2,500 in revenue a month. A 30% food cost, that is $1,750 in profit extra a month. This ignores those customers coming back as regulars – which is more profit.
Remember, if these customers aren't finding your Restaurant, they are finding your competitors.
Get one of our obligation free 7 point website SEO audits to see what you can get your web developer to fix to increase your revenue today.