What makes a customer walk into your restaurant, and just as important what stops them walking.  Depending on your marketing plan, you may need to bring in a large number of customers as they walk by.  This can be particularly important if your restaurant is a part of an area heavily populated with restaurants, such as Lygon Street where many people will decide to eat at the destination without a particular restaurant in mind.
I had already walked down the main street and nothing really jumped out.  Some of the restaurants looked grotty, some were empty, some didn't have a menu up, and some had menus out the front that did nothing to inspire me.
I had actually given up, thinking it was getting late and I was going to miss out on dinner, so I took a short cut back to the hotel.  As I was walking down the lane way, I saw this.
I stopped and had a look at the menu.  Thai was something I would like, there were people inside, the place looks quite nice a nice friendly smile welcomes me into the restaurant. Dinner is Saved.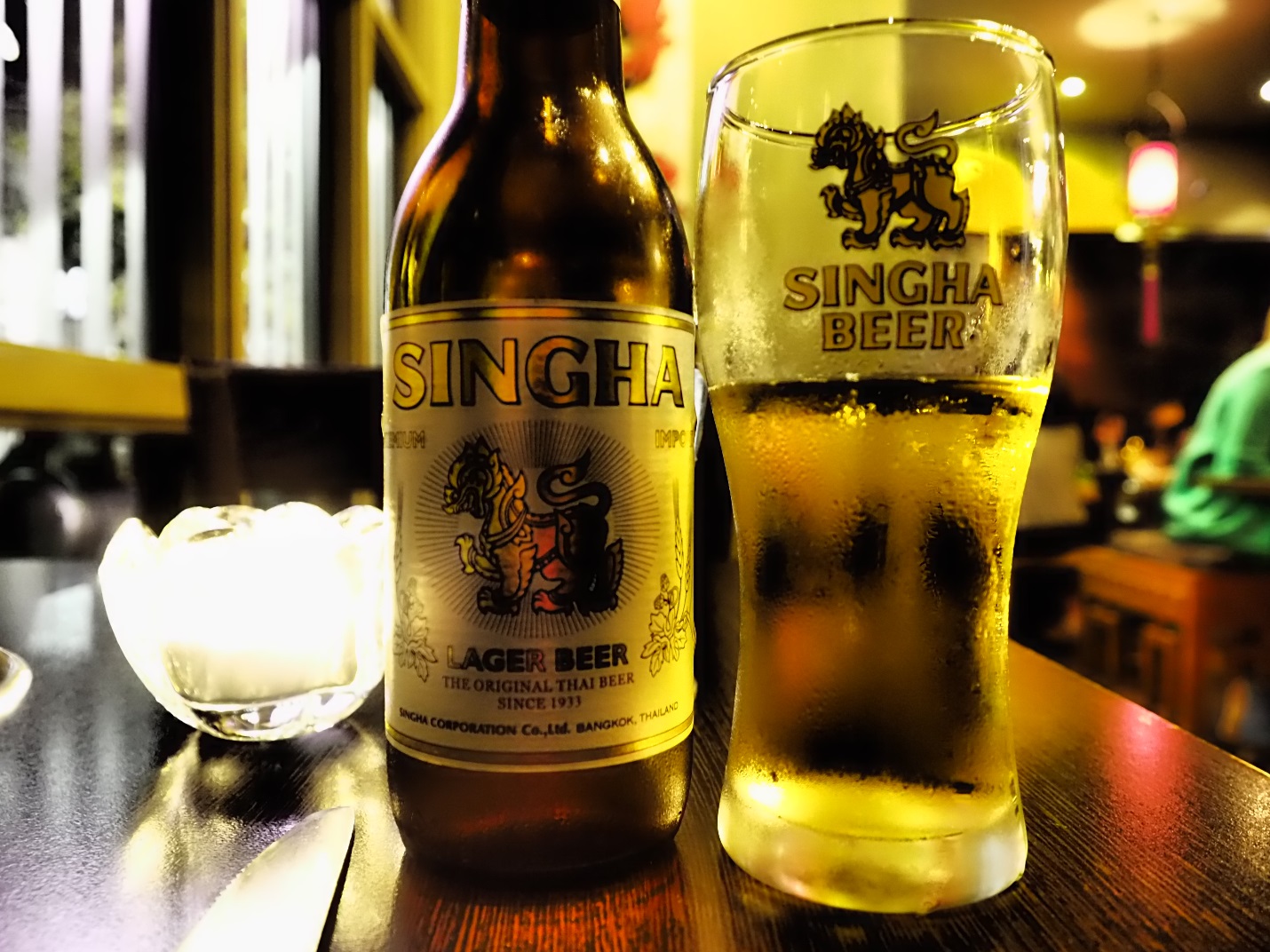 And we start off with a beer.
Looking at ways to attract walk ins for your restaurant:
Have the menu visible from outside.  If people don't know what is on the menu and how much it costs, they are reluctant to come in.  If it is too much, they will be reluctant to walk out, so it is just easier to find another restaurant.
Make the menu attractive:  Thai is one of those cuisines that often have very nice menus.  They are well designed and include photos so everyone knows exactly what the meals are and how great they look when they come out.
Make the place look inviting:  If the place does not look like a place where people would want to eat, they will not come in.  Are the chairs in good condition, is it clean and is the décor appropriate.
Make it look busy:  Place people near the windows so it looks like something is going on. It is hard for people to be the first ones into a restaurant so getting a few seats filled early can make a big difference through the night.
The smell:  Some restaurants do a great job of ensuring the smell from the kitchen is wafting down the street.  That creates the salivation that gets people thinking about food.  After that, they literally follow their nose to your restaurant.
The experience:  If you have an experience, like a teppenyaki bar, or a big BBQ pit, put that near the window.  It creates interest and drives people in.
A friendly greeter:  We have seen this in a lot of places and a great greeter makes a big difference – standing just in front of the restaurant to bring in the crowds, not too pushy, but great at selling the interesting items on the menu.  A free drink or entrée often helps to seal the deal.  San Francisco's Fisherman's Wharf is full of restaurants with greeters out the front.
Pamphlets:  We have seen people on intersections handing out bright menus with an offer and directing people to a restaurant that may be a little out of the way.  If you don't have a lot of foot traffic, you are relying on your search engine optimization or someone to divert the traffic to your restaurant.
Samples:  David Zhou at Oriental Tea House does a great job of this, with small cups of his tea available.  What about a large plate of mini entrees for people to try as they pass by.  Many people will feel obligated to eat a meal after getting a complimentary small tasting.
Don't stare:  Too many times there is someone in the restaurant watching you like a hawk as you walk by.  It is off putting and doesn't make customers feel comfortable so it is easier just to walk on by.
So there are some ideas about how to increase walk in traffic.  Of course there are plenty of other ways to draw in customers from word of mouth, SEO, Facebook, Twitter, emails, letter drops and coupons, but the more planks you have, the easier it will be to fill your restaurant every night.
---
Is Poor SEO Killing Your Restaurant?
Too many times we see customers with websites that are costing restaurants thousands of dollars every month through poor design, poor messaging and poor SEO. If your website could be improved to bring in 200 extra visits per month and just 10% of those made a booking, and each booking was for 2.5 seats on average at $50 a seat, you would have an extra $2,500 in revenue a month. A 30% food cost, that is $1,750 in profit extra a month. This ignores those customers coming back as regulars – which is more profit.
Remember, if these customers aren't finding your Restaurant, they are finding your competitors.
Get one of our obligation free 7 point website SEO audits to see what you can get your web developer to fix to increase your revenue today.