We have traveled far and wide this year to find some of the best meals.  Generally, when you look at your restaurant's target market your product can be measured by 3 things – Great Value, Great Food and a Great Experience.  With all the restaurants we've visited this year, nearly all have issues with how tough the hospitality industry is.  Whether it is high wages in Australia, huge competition in Queenstown New Zealand, or a economic conditions in the United States or Argentina, each market has it's own unique struggles, but also their own inherent strengths, and we see the winners in these markets embracing their strengths, to finely balance the Great Food and Great Experience with the price to provide Great Value. Here's what caught our attention this year, in no particular order.
Remember – we've seen some great marketing from some restaurants, which haven't been able to live up to the USP for their restaurant.  The product and the marketing mix need to be right and consistent.  This is something that all of these places have done very well.
Signature Dessert at Mrs G's in Sydney.
This is the essence of a signature dessert.  The flavours were amazingly, Lots of things going on, and completely unexpected.  I think it connects with diners on an emotional level.  Remember Peanut Butter and Jam sandwiches going to school?  That is here.  There is also donut ice cream, Mars Bar slice, candied bacon, popping candy.  It was priced very reasonably and it fit with all of the great food that we ate that night at Mrs G's.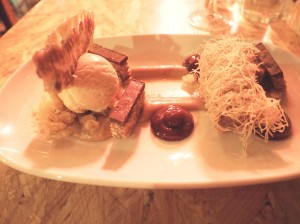 Stoner's Delight 2.0 at Mrs G's in Sydney.