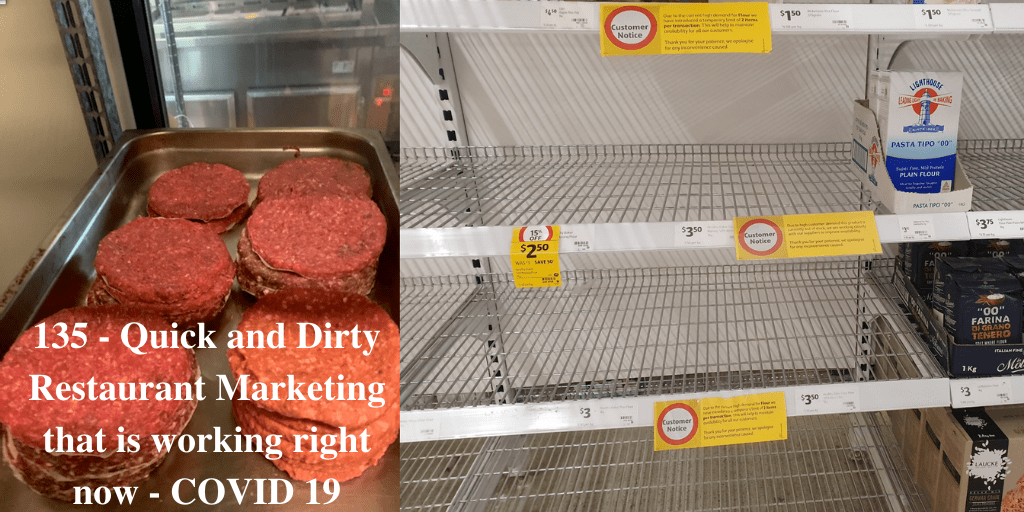 Covid-19 Quick And Dirty Restaurant Marketing Tactics That Are Working Today
This is a follow up to our past episode 134 – The Coronavirus / COVID 19 Emergency Marketing Plan for your Restaurant Episode. We covered smart ways to still bring customers in.
Our thoughts to all restaurant owners and operators who are impacted by Covid 19. Restaurant Marketing has changed fundamentally in the last week.  I decided to share some content and targeting that we are using and that is working this week so that if you are still open, you can run some marketing campaigns that have a much better chance of working.  All of the old stuff is dead in the water.  No one really cares about your 20% of happy hour offer or a nice photo of some dish.
People are no longer concerned about self-actualisation, esteem, love or belonging.
They want safe and clean delivery or pickup, or bulk food to cook if they go into lock down. We are seeing some traction with asking customers for some help.
Some restaurants are using photos of their staff members doing deliveries.  Many people are scared of the Uber Eats guy, because there is no quality control and because they are on below minimum wage, they may work when sick.
To help you get through the crisis, we have our Free Restaurant Tools, and if you need more help, contact the team about our special marketing assistance program during the Coronavirus outbreak.
Listen to podcast, we break down the business and marketing ideas that have worked this week.  Who knows what we will be doing next week!  Good luck.  Stay safe.
If you liked this episode, please leave a review in iTunes.  It really helps us to get the word out and share it on our  Facebook  

Right click here and save-as to download this episode to your computer.