2015 has been a very big year in the Restaurant industry and so it is time to look for what the big Restaurant Trends will be over the next 12 to 24 months, to help Restaurant owners better understand the dynamics of the industry that will affect them.  There certainly has been a lot of large moves by companies like Open Table, Trip Advisor buying Dimmi, the Just Eat acquisition of Menulog and the Zomato's attempts to gain a foothold in online ordering and bookings.
What are the factors creating the new Restaurant Trends?
We believe that there are a number of factors that will cause existing Restaurant trends to increase in strength as well as the creation of new trends – these can be broadly broken down into 3 areas:
The companies operating in the industry
The simple fact is that nearly everyone in the world eats and that nearly everyone in the world eats 3 times a day.  Decreasing time for people increases the number of times that they eat out or order in and that makes this multi trillion dollar industry.  The size of the industry means that there are a lot of players looking for a slice of the action.  Companies like Open Table and Just Eat can have a significant impact on segments of the market and whilst many restaurants may not use their services, it is important to understand how they are driving industry segments – particularly in online ordering.
The evolution of the internet
The internet changes everything from consumer research and reviews, to transactions like bookings and online ordering moving online at a greater  pace as well as the massive opportunity bought about by social media, but the internet is a lot more than that.  Next year will see the rise of small Restaurants starting to leverage some of the big data opportunities to better target their existing customers and to prospect new leads.
Changing consumer tastes
Last but not least, we should remember that amongst all of this there is a customer or two!  Their tastes are changing based on evolving needs and education.  Niches such as gluten free will still continue to be strong and there will be an increase in paddock to plate, fresh, local grown ingredients in a Restaurant.  We are also seeing Restaurants leverage a diffuse need to belong to a community and for experiences and this will definitely continue and accelerate.
By analysing each of these factors, Restaurant owners think about how each of these factors and how they impact on your business model, strategy and marketing plan.  Riding the wave of a trend can make for a very successful period for a restaurant, but trying to buck the trend can make for a very difficult year.
The dominant theme will be around generating buzz, word of mouth (social media or old school) and repeat customers.  Anything that can do this makes it easier for a Restaurant to be profitable and too many Restaurants are unprofitable for too many nights of the week meaning that the either run out of money or the owners can't see any reward for working so many hours.
1.  Story driven restaurants that create experiences.
The experience that a Restaurant delivers will become increasingly important in what is pretty fierce competition in most Restaurant markets.  Paddock to plate, nose to tail, sustainable fishing, themed and challenge restaurants are types of Restaurants.  These are the Restaurants that are becoming increasingly popular and are able to build that loyal community of repeat customers which is the core of a sustainable business.  The story can be around the Chef (think Jamie Oliver and Heston Bumenthal), around the cuisine, think Duncan's Thai Kitchen, or a high Burger bar, or the process you use.  What is your story and just as important, how are you going to tell it?  Of all the 2016 Restaurant Trend, this one will make a big difference for a lot of restaurant owners and we see this becoming huge in 2016.
Remember – where there is experience there is margin.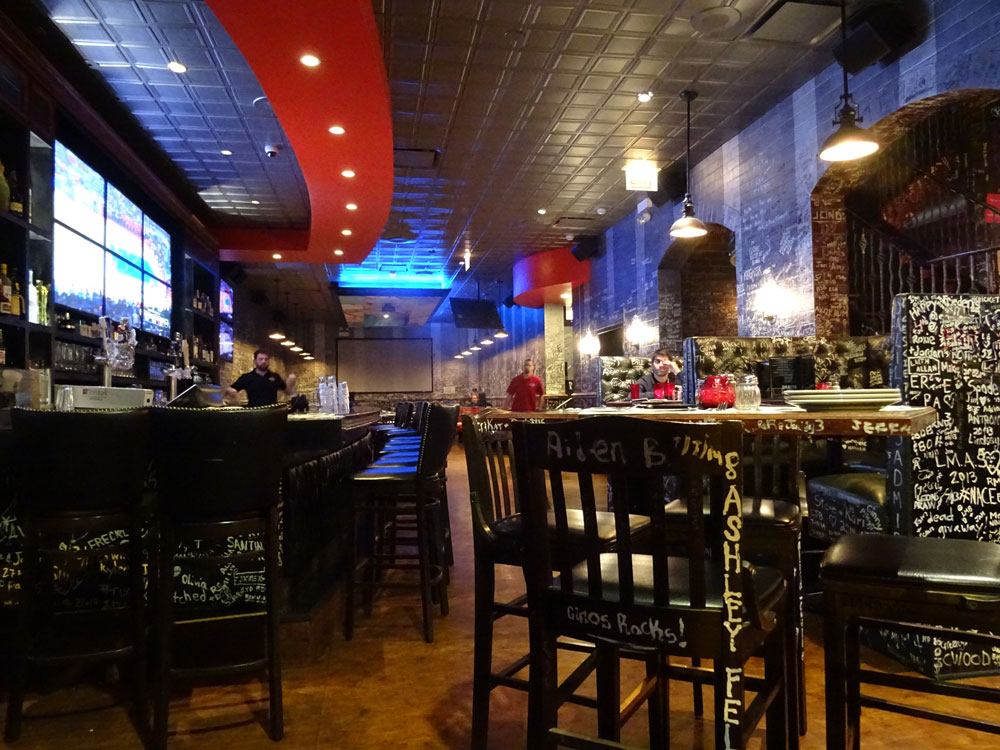 Gino's East is a famous Pizza place in Chicago. Great food with a great story and a unique atmosphere makes for a great night out. A great example of a restaurant which tells it's story very well.
2. Niche targeting
Restaurants will focus more on the important niches, such as vegetarian, family friendly, family unfriendly, gluten and allergen free.  Niches are an important part of the strategy for Restaurants in their business and marketing plans.  Too many restaurants are trying to be everything to everyone and because of that they are nothing special to anyone.  An Indian Restaurant with really hot spices, a Restaurant that uses no GMO food, Vegetarian, best steaks, these are were successful Restaurants can really stand out from the crowd and build a loyal following.
3. Divergence
Another of the big Restaurant Trends for 2016 is the divergence between low cost and high cost restaurants.   This is being driven from the massive  investments in software businesses building consumer platforms for reviews, online orders and online bookings.  In 2015 we saw Tripadvisor buying Dimmi, OpenTable buying Respak and Menulog being acquired by Just Eat for an amazing AU$865 million dollars.  These are all very large companies and will be looking to make returns from their investments this year.  Just Eat has been public about their plans to increase commissions to Restaurants in Australia as part of the reason that they paid such a large premium was that they could see a big opportunity to increase prices.  This will increase pressure on Restaurants and we are seeing the beginnings of a divergence between Restaurants who rely wholly on companies like Just Eat / Menulog for their marketing and those operating outside that system.  The nature of the business model means that Restaurants are under pressure to compete on price when operating in the Just Eat environment, offering higher commission to Just Eat for better positioning in the searches and higher discounts to the customers.  This is placing incredible pressure on profits and one way many Restaurants are dealing with this is to cut the wages paid in the kitchen, with less well trained chefs and to cut the quality of the ingredients that they are using.  The benefits of this is that they do not need to worry about marketing and they are focusing on the most price conscious of the consumers.  The issue is that in a race to the bottom there is often someone willing to sell at an uneconomical price because they don't fully understand their costings.  Restaurants taking control of their own marketing are able to deliver a better product to customers willing to pay a premium for a great product.
4. No bookings
One of the big drives for both high end and casual restaurants will be towards no bookings.  Bookings are great for the customer as they allow certainty, but expose to lack of flexibility in regard to turning tables and also the risk of allocating tables which where the customer may no show.  Some restaurants are incredibly successful with a No Bookings policy – it means that tables are always full and there is the valuable opportunity to upsell with a pre dinner drink at the bar or even a beer whilst waiting in the queue.  The trick is to come up with a combination of price, product and experience that creates a willingness for people to queue.  These restaurants are often harder work from a marketing / strategy point of view as they continually need to reinvent themselves to ensure that customers keep coming back, but as far as profitability goes, No Bookings wins hands down.  It really is the Gold Standard for Restaurant Profitability.
5. Smarter marketing
More and more Restaurants are now starting to use many of the new online marketing tools that are becoming increasingly popular.  With marketing Return on Investment easily determined for each campaign that is run, often within a day or day, even the smallest restaurant can now advertise cost effectively.  Smarter Facebook / Instagram marketing (paid and unpaid) along with email marketing from a database that is built from customer who have made a booking or ordered take away makes it very easy to spend 10 minutes a monthly running a campaign to loyal customers often around driving demand to Tuesday and Wednesday nights.  This can be a huge impact on profitability for the week.  This is becoming a big trend, because Restaurants doing this are more likely to stay in business and those who aren't marketing to their customers are having their customers marketed to by other Restaurants, so they are often forgotten.
Two free tools that Restaurants are using to build their database are our Free Online Restaurant Booking System (FORBS) and our Free Restaurant OnLine Ordering System (FROLO).  FORBS has taken over 300,000 seats of bookings and FROLO is saving some restaurants hundreds of dollars every week by allowing them to take orders from their own website without any fees or charges (except payment gateway charges).
6. Menu Engineering
2016 could very well be the year of the Menu Engineer.  Of all of the Restaurant Trends, this has the ability to make the biggest impact on a Restaurant.  The ability to create a menu item that is low cost / high profit with that certain social media food porn appeal can now create a disproportionate return for  Restaurant Owner.
7.  The rise of the celebrity chef
It has never been easier to create a loyal following for your cuisine, Restaurant or personal brand.  Whether the purpose of building celebrity status is to generate revenue outside of the Restaurant or to drive more customers into your Restaurants, Chefs are finding tools like Facebook, Instagram, Youtube and low cost publishing are allowing them to build significant followings.  Coupled with an email database and the ability to craft high value experiences such as cooking lessons or special tasting evenings, celebrity followings can bring in large numbers of high margin customers, often in of peak times.  A celebrity chef doesn't need a TV show any more to build a small community of 2 or 3 thousand followers who are eager to share participate in events and offers.  This core of followers can make hundreds of thousands of dollars of difference in revenue for a restaurant.
The team at Marketing4Restaurants will be keeping a close watch on these 8 Restaurant Trends as well as new Restaurant Trends as they appear.  We will keep our family of Restaurant owners from all over the world up to date with both our blogs and with Secret Sauce, The Restaurant Marketing Podcast.  If you want to stay in touch with the latest restaurant innovations from around the world make sure you subscribe to our newsletters.
---
Is Poor SEO Killing Your Restaurant?
Too many times we see customers with websites that are costing restaurants thousands of dollars every month through poor design, poor messaging and poor SEO. If your website could be improved to bring in 200 extra visits per month and just 10% of those made a booking, and each booking was for 2.5 seats on average at $50 a seat, you would have an extra $2,500 in revenue a month. A 30% food cost, that is $1,750 in profit extra a month. This ignores those customers coming back as regulars – which is more profit.
Remember, if these customers aren't finding your Restaurant, they are finding your competitors.
Get one of our obligation free 7 point website SEO audits to see what you can get your web developer to fix to increase your revenue today.