Marketing a Fish and Chip shop can be difficult. But by breaking the marketing process down into steps, creating a marketing plan and executing on it, you can gradually increase the number of customers coming into your Fish and Chip shop. The process is quite similar for Take Away Pizza, Chicken and Chips, and some of it extends to take away Indian and Chinese restaurants as well.
For most Fish and Chip shops the most important piece of online marketing they can do is get a Website.  It provides a focus for Google, allows you to create the story about your shop, showcase great photos and serve as a base for remarketing and building your email list.  It also allows you to take orders online without paying commission.  
UPDATE March 2016
Because of the huge interest in fish and Chip marketing, we've done a Secret Sauce Podcast on on How to Market a Fish and Chip shop.   The podcasts are designed for busy restaurant owners.  You caneither download them on  your computer, listen with the player on the page, or download the podcasts on your iPhone or Android phone.  If you download to your phone, you can listen to them on the way to and from work.
First, you need to identify your customers. If you are in a local neighbourhood, you will find very little tourists to market to.
When targeting local customers, you can afford to spend a little more time and money to attract a Fish and Chip shop customer, because their Average Annual Spend is usual higher. We've already looked at the value of Take Away customers via our FREE Calculator
People tend to be fairly loyal to their local Fish and Chip shop, which means that you need to build awareness for those just moved into the area. Also have a hook to tempt people away from their previous regular Fish and Chip shop.
Second, set up a functional website that shows off your shop, menu and opening hours. Customers are so used to searching for information on the internet on their phones, it is important that they find your Fish and Chip Shop and know what you serve.
Next, try to capture customer details. Grab business cards, run a printed out survey with a monthly prize. This works well as customers usually wait 10 minutes in the shop for their food, so grab some feedback and their details so that you can market to them. Sending emails or an sms on quiet nights just before mealtimes can work well.
The special offers should be targeted around your quiet nights. What about a FREE bottle of Coke if they order $20 or more on a Tuesday night? What would it take to encourage people to order on your quiet nights? Experiment with different offers. Most people use a Take Away over the weekend, so you don't want to run promotions that decrease the average sale price during your busy times. Use promotions to make up for quiet times or increase their order value.
For targeting tourists, things like Google Places, tourist guides and marketing alliances can work well. You will need to do a traffic analysis – where do people walk or drive? Is it right by your shop, or are you tucked away out of sight? Do you need a map to let people know where you are, as well as what your exciting deal or unique selling proposition is? Something quick and simple to get them through the door.
Looking at the Four P's of Marketing gives us another way to look at the marketing plan:
Product: What is it that you are selling? This just isn't the products that you are selling. Is it the best fish and chips? Or is it a quick meal in front of the sea? Do you offer fried Mars Bars, or friendly service? What other complementary products do you have to offer? Is the fish freshly caught by local fishermen?
Price: What price do you charge? This needs to be linked in with your target market. Are they rich tourists? Struggling families? Remember that price can also be a sign of quality, people may pay more if you differentiate with the type and cleanliness of the oil you are using, or the range and freshness of the fish.
Promotion: There are a range of strategies around promotion, advertising, public relations, personal selling and sales promotions. Do you offer Cheap Tuesday deals? Do you run leaflet drops?
Place: This is an interesting part of the marketing mix. Where your shop is located obviously dictates the type of customer that you will have, but one place that many Take Away shops do not cater for (except Pizza Shops) is the customer's home. Home delivery makes a big difference, because not only are you selling food, you are selling convenience. Of course there are the problems associated with delivery, but it can make a big difference in the price you can charge. Set a minimum order above your average sale, or create a family pack. Both can be great ways to increase the average spend. Even the convenience of online ordering where the customer picks up the food can make the difference between whether a customer buys from you or someone else.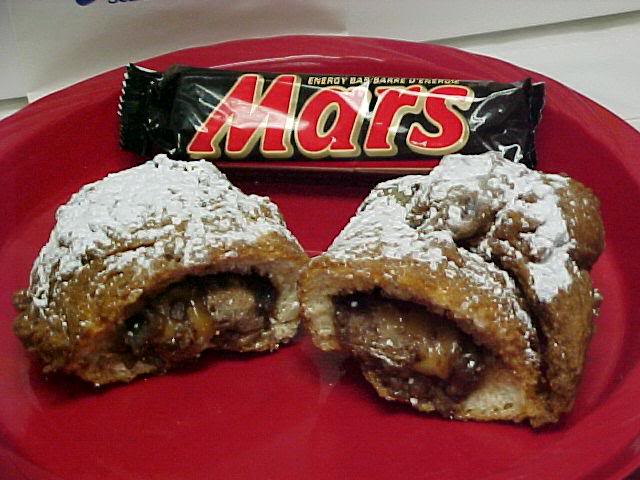 Image: Fried Mars Bar
Adding different products into the mix can offer a useful point of difference between your business and the other local take aways shops. But be careful, it is fairly easy to copy new products.
Also read: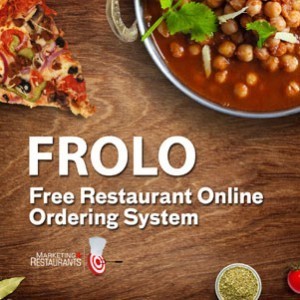 Take Out is an important revenue stream for many Restaurants. There is less work front of house in serving the customers and you aren't limited by the number of tables you have. Taking orders online decreases errors, frees up a staff member to serve customers rather than answer the phone and most importantly, it builds your Database. Many businesses offer online order tools for Restaurants, but nearly all of them want to clip the ticket on the way through, some charging 10% and they also take your loyal customers contact details. We think this is unfair and that's why we built FROLO, the Free Restaurant OnLine Ordering system. Start taking orders on your website today. It's quick and easy and best of all, it's free. FROLO is the perfect alternative to Menulog, Just Eat, Grub Hub, Delivery Hero, and Eat 24.
---
Is Poor SEO Killing Your Restaurant?
Too many times we see customers with websites that are costing restaurants thousands of dollars every month through poor design, poor messaging and poor SEO. If your website could be improved to bring in 200 extra visits per month and just 10% of those made a booking, and each booking was for 2.5 seats on average at $50 a seat, you would have an extra $2,500 in revenue a month. A 30% food cost, that is $1,750 in profit extra a month. This ignores those customers coming back as regulars – which is more profit.
Remember, if these customers aren't finding your Restaurant, they are finding your competitors.
Get one of our obligation free 7 point website SEO audits to see what you can get your web developer to fix to increase your revenue today.