Just Eat has just released their full-year results for 2018 and as expected, it has been a very tough year for Menulog in Australia.  Analysing the Menulog 2018 Financial Results show that despite the move to a hybrid model, and an increase in the Restaurants on the platform, they have lost customers, have less orders, less orders per restaurant and less revenue per Restaurant.  These numbers put more pressure on the move to the hybrid model in an attempt to save the business from the savage competition that it is experiencing.
Fierce competition from UberEats and Deliveroo and free online ordering alternatives like FROLO has significantly impacted the number of customers ordering.
MENULOG 2018 FY Results Fast Facts
14% Increase in Restaurant 'Partners'  up to 11,400
On the face of it, this is a good result.  We suspect a large number of these have been the large chains – Hungry Jacks and KFC.
25% Decrease in Orders / Restaurant
Whilst onboarding more Restaurants, the orders fell, and importantly Orders / Restaurant fell to 1,140 orders over the year.
95 Orders / Month for the Average Restaurant
The average Restaurant, if they are open 7 days a week is receiving just 3 orders per day.  This is a surprisingly low number.  It is a decrease from 126 orders per month last year and highlights the impact that online ordering platform alternatives is having on Menulog.  We are seeing a growing trend with Restaurants using Menulog for discovery (finding new customers) and then converting the customer to their own customer with an order direct and save campaign, which can be very effective using free online ordering systems.  This saves the Restaurant commission and gives them the customers email address. As more Restaurants start to understand the importance of building their own online marketing database, they are less likely to use Menulog as their primary online ordering system.
$AUD4299 Average Orders / Month / Restuarant (Down 23%)
This is the average result, down in constant currency terms from $5596.  The risk here is that as that figure goes lower, the percentage of total revenue for the Restaurant drops, decreasing loyalty and lowering the barrier to dropping Menulog entirely.
13.3% Decrease in Active Customers
This is a particularly worrying number and is hard to explain.  One would have thought that the increase in Restaurants would increase the number of active customers (customers who purchased in the last 12 months)
5.0 Average orders per customers
Despite the constant story in the media about the increasing popularity of delivery, the number of orders per customer over the year was steady.  This highlights the lack of loyalty that Menulog customers are having, being prepared to use other platforms.  Most Restaurants are definitely seeing an increase in the percentage revenue coming from online orders, implying that Menulog is decreasing their share of each customers spend.
14.5% Decrease in Orders
New Restaurants on the platform, but a decrease of 14.5% in orders over the year, down to 13,000,000 orders.  In fact this is less than the result in 2016, which was 13,800,000.  This, despite the introduction of the hybrid model in the high density Melbourne and Sydney areas, which in theory should have dramatically increased the number of orders.
$AUD6966 – The Commission charged to the Average Restaurant (Down from 9063)
Menulog is collecting $2097 less commission per Restaurant. This is the key trend that will need to be arrested if Menulog is to survive in Australia and New Zealand.
What is the Menulog hybrid model?
Menulog has rolled out the technology from Canada's Skip The Dishes in Australia and began rolling out a delivery service along with straight online ordering.  The problem is that Menulog is going from a 2 sided market – customers and restaurants, to a 3 sided market, customers, restaurants and riders.  This is much more difficult compared with the move that Deliveroo is making, allowing Restaurants with their own delivery capability to appear in the Deliveroo marketplace.  Both companies will offer a hybrid model, with Menulog's nascent delivery capability compared with Deliveroo's extensive experience in managing deliveries.
Delivery is a much more difficult business model and the Menulog twitter stream is replete with customers irate at missed or late deliveries.  It is also at significant risk from regulatory intervention, as seen by the Victorian Government inquiry into the Gig economy.
What is the future for Menulog?
Just Eat in the UK, Menulog's parent comapny, has come under increasing pressure around the replacement of the CEO and the lack of speed with execution.  Menulog introducing deliveries years after UberEats and Deliveroo is a great example of this.  We believe that it may be too late to get Menulog back into a leading position and without a significant turnaround, it will likely be sold, with the most likely acquiring being Deliveroo as it attempts to increase scale against UberEats.  Australia is a small market and probably too small for 3 order delivery companies.  Foodora left under a cloud and it is quite probably only a matter of time before the 3rd placed company does the same, being unable to get the economies of scale and the network effect which is critical to the business model.  Deliveroo is definitely clipping at Menulogs heels.  We do not know Deliveroo's order numbers, but it is unlikely that they are going backwards like Menulog is.
Our recent Google Search Trends research showed that UberEats has a significant lead over Menulog and Deliveroo has been gaining.  The question is what will Menulog do to reverse this worrying trend.  As it's value proposition has been continually eroded by Free Restaurant Online Ordering alternatives, more Restaurants are running order direct and save campaigns or dropping Menulog entirely.
What does it mean for your Restaurant?
Online delivery is fraught with profit risks for Restaurants.  Many struggle with the 13.5% commission that Menulog charges and many more are worried about not getting customer contact details.  Last years change to the ordering process that Menulog made, where the Restaurant no longer received the customers' phone number caused a lot of anger amongst some Restaurant owners who used the phone number for SMS marketing.
Some Restaurants have found that small Facebook Marketing campaigns along with a Menulog alternative like FROLO can save them thousands of dollars every year.  One of our customers in Canberra recently celebrated over $200,000 in FROLO, seeing a saving of over $27,000, which for a small restaurant is a large saving.
If you need help with making online ordering profitable, contact the team at Marketing4Restaurants – we are experts at making it profitable for Restaurants.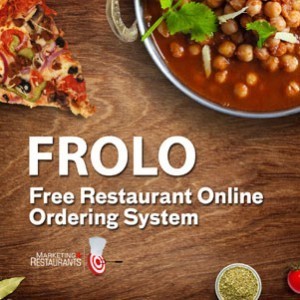 Take Out is an important revenue stream for many Restaurants. There is less work front of house in serving the customers and you aren't limited by the number of tables you have. Taking orders online decreases errors, frees up a staff member to serve customers rather than answer the phone and most importantly, it builds your Database. Many businesses offer online order tools for Restaurants, but nearly all of them want to clip the ticket on the way through, some charging 10% and they also take your loyal customers contact details. We think this is unfair and that's why we built FROLO, the Free Restaurant OnLine Ordering system. Start taking orders on your website today. It's quick and easy and best of all, it's free. FROLO is the perfect alternative to Menulog, Just Eat, Grub Hub, Delivery Hero, and Eat 24.
---
Is Poor SEO Killing Your Restaurant?
Too many times we see customers with websites that are costing restaurants thousands of dollars every month through poor design, poor messaging and poor SEO. If your website could be improved to bring in 200 extra visits per month and just 10% of those made a booking, and each booking was for 2.5 seats on average at $50 a seat, you would have an extra $2,500 in revenue a month. A 30% food cost, that is $1,750 in profit extra a month. This ignores those customers coming back as regulars – which is more profit.
Remember, if these customers aren't finding your Restaurant, they are finding your competitors.
Get one of our obligation free 7 point website SEO audits to see what you can get your web developer to fix to increase your revenue today.