Peter Gawron has had Saffron in Arrowtown for over 15 years and turns out some incredible food at a remarkable price point.  Arrowtown is a little historic town about 20 minutes out of Queenstown and Saffron is the culinary highlight of the area.  Being a little of the beaten track, you do feel like you have stumble on hidden gold like the prospectors of the 1800's in Arrowtown.  Out the front, the menu looks inviting, and even has a kids menu.  I think Peter has done a great job of defining his target market.  The grazing plate had multiple items on it where you have that immediate reaction of "Wow, you have to try this".  Finding amazing food like this off the beaten track really is one of life's great pleasures and being in Arrowtown keeps costs down low, so a better than first rate experience can be had at an incredibly reasonable price.  Top it off with Peter being so approachable and wanting to discuss his food and you really have a second to none experience.  This was our best restaurant experience of 2013.
 truly amazing tasting plate!  Surprises, brilliant tastes and incredible variety.  Amazing that Peter can produce all of this so quickly with just himself in the kitchen.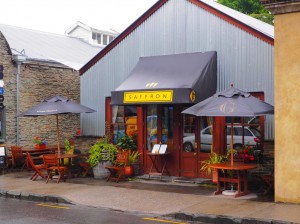 The outside only hints at what a great experience awaits inside.
---
Is Poor SEO Killing Your Restaurant?
Too many times we see customers with websites that are costing restaurants thousands of dollars every month through poor design, poor messaging and poor SEO. If your website could be improved to bring in 200 extra visits per month and just 10% of those made a booking, and each booking was for 2.5 seats on average at $50 a seat, you would have an extra $2,500 in revenue a month. A 30% food cost, that is $1,750 in profit extra a month. This ignores those customers coming back as regulars – which is more profit.
Remember, if these customers aren't finding your Restaurant, they are finding your competitors.
Get one of our obligation free 7 point website SEO audits to see what you can get your web developer to fix to increase your revenue today.