No trip to Queenstown is complete without a Ferg Burger.  It has long been an institution in Queenstown but getting listed in the Lonely Planet New Zealand travel guide projected Ferg Burgers success into the stratosphere.  It is on most peoples list before they get to Queenstown, all the locals recommend them and if you don't hear about it, the queue out the door definitely gets people lining up to see what the fuss is all about.  They are amazing burgers and very reasonably priced.  The success has led to some changes, including a Ferg Bakery next door and an offsite kitchen to freshly bake the buns and prepare the ingredients to turn out so many burgers so quickly in such a little kitchen.
Another part of the Ferg Burger success is that it hasn't branched out.  Resisting the temptation to create more stores has meant that there is only one place on earth that you can get a Ferg Burger and that is Queenstown.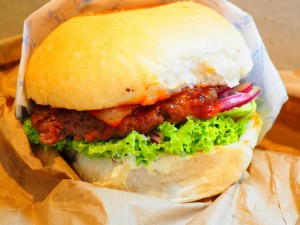 There are plenty of testimonials on the walls, stating that these are THE best burgers in the world. The do taste incredibly good.