Are you one of the 2,000 restaurants who every day has their customer details shared?
Are you one of the 2,000 restaurants who PAYS every day to have their customer details shared?
2014 is going to be a big year in the online booking segment of the hospitality industry in Australia and New Zealand.
Many restaurants do not know that if they are using Dimmi or Bookarestaurant on their website, their own customers' details are being taken by these companies and the Restaurant is paying for every customer's contact details that they collect.  Whether it is $1 per seat or $1 per booking, the price is far too high, because once your customer's details are taken by these companies, they will be sending them offers to other restaurants.  Their revenue model is to make money every time someone makes a booking – most of the time it is a customer who was visiting your own website.  These are your existing customers and they were going to book anyway.
Up until now there have been 3 competitors, Dimmi, Book A Restaurant and our own Book A Table product, but this is about to change with the entrance of Restalo, a Spanish company which has raised $10 million to enter the Australian market. What does all of this hold for the industry?
Dimmi has around 2,000 restaurants has been the market leader and has grown up until the point where free alternatives have become viable for restaurants.  The big problem for a restaurant wanting to build their own system is that it is cost prohibitive.  It can cost between $3,000 and $10,000 for a system to be integrated into a restaurants website that allows for the number of bookings available each night and also feeds directly into a database, rather than just sending an email.
So what is the state of play in the industry now:
Dimmi – it appears they have laid off staff in a bid to cut their cash burn rate, which industry speculation puts at $100,000 a month.  Raised millions from Telstra Ventures and Village Roadshow, with the vision that they will have their online booking system in all the restaurants and that the number of people making online bookings will increase over time.
Book A Restaurant – has been around for a long time but failed to gain significant marketshare in the mass market. It targets high end restaurants and hotels.  It really has been an add on product for Respak, the table management system that the parent company sells.  It has a similar business model in that it builds up a database of diners and sends out offers to other restaurants using their booking system.  Payment is per booking rather than per seat, and is generally a little less than Dimmi.
Restalo – The largest online booking system in Italy and Spain comes to Australia with a large war chest to take on the incumbent.  With $10,000,000 to spend, they will be a significant competitor and we are sure to hear a lot more from them over the next 12 months.
The entrance of Restalo into the market is going to make a big difference.  With Dimmi on the wane they will naturally gain some traction, especially with such a large marketing budget, however there are two main issues with this business model for online restaurant bookings.
Firstly, Restaurant margins are very tight and they begrudge the monthly bill.   Because of the billing model, online booking companies often have a large number of people chasing up invoices.  They particularly begrudge paying to take bookings on their own website.  These are often loyal regular customers and it doesn't seem right that they need to pay for those new bookings.  Many restaurants don't realise that they are sharing their customers contact details with the online booking company, and are quite upset when they realise the damage that is being done to their brand when this occurs.
Secondly, the big attraction of the online booking businesses is their 'Network' of booking companies.  These include Urbanspoon, Eatability, Good Food Guide, but the main issue is that these websites do not generate a lot of bookings.  The entrant of a new player is only going to fragment the number of sites in each network further. We believe Dimmi has struggled to retain network partners, because most of their partners are restaurant review sites and Dimmi markets themselves as the only place to get trusted reviews, so it can be viewed as a confusing Go To Market strategy for Dimmi, when viewed from the point of view of their partner review sites.
Over the next 12 months, we expect to see a lot of action from Restalo, and significant changes with Dimmi.  It is a struggle to see where their value position is in our opinion.  Restaurants often see it as being charged $4 -$20 to give their customers contact details to Dimmi for use in their Flash specials which are used to advertise restaurants nearby and when they start to think like that, they start to understand the damage they are doing to their own business.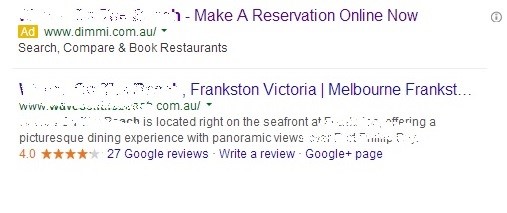 We did a Google search for a restaurant and here are the results –  it shows Dimmi competing against their own customer for clicks.  They want to charge $3 per seat rather than $1 per seat.  Is this really fair?
Online bookings for restaurants are definitely the future of the industry.  It allows restaurants to build their database, dramatically decrease the cost to acquire a new customers (who is likely to be loyal, if they receive Great Food, Great Value and a Great Experience).
Marketing4Restaurants provides restaurants with the tools to take bookings online, to build their database and to keep their customers details safe and secure.  We never set out to build an online booking system, but it was the number one request from customers all over Australia who we were helping to find new customers and turn them into repeat customers.  Because we want to help restaurants and aren't out to build our own database of restaurant diners, we work completely differently.  Firstly, our platform is so big now, we are able to offer it for free.
WE WILL NEVER SHARE YOUR CUSTOMER DETAILS.
WE WILL NEVER CONTACT YOUR CUSTOMERS.
WE WILL NEVER MAKE YOU SIGN A CONTRACT.
WE WILL NEVER MAKE YOU RECONCILE NO SHOWS!
No contracts – our customers use us because they love us and they love the way we are helping restaurants build their business.
Join the Revolution today!  Our Book A Table system is Australia's largest online restaurant booking system that is free for customers and free for the restaurant and completely secure.  Your customer details aren't shared with anyone!
Sign up now – Free trail, followed by FREE forever!
Some things were meant to be free – Online bookings is one of them.
Book A Table – Australia's largest online restaurant reservation system that is free for customers and free for restaurants.
Don't sign a contract, just SIGN UP.  Use it for as long as you are happy.  Find out today how restaurants are saving hundreds of dollars every month (some thousands) by taking bookings online with Book A Table.
---
Is Poor SEO Killing Your Restaurant?
Too many times we see customers with websites that are costing restaurants thousands of dollars every month through poor design, poor messaging and poor SEO. If your website could be improved to bring in 200 extra visits per month and just 10% of those made a booking, and each booking was for 2.5 seats on average at $50 a seat, you would have an extra $2,500 in revenue a month. A 30% food cost, that is $1,750 in profit extra a month. This ignores those customers coming back as regulars – which is more profit.
Remember, if these customers aren't finding your Restaurant, they are finding your competitors.
Get one of our obligation free 7 point website SEO audits to see what you can get your web developer to fix to increase your revenue today.