Competing against Menulog and other Online Ordering companies is a big task for many Restaurant owners, but Take Away has always been an important source of revenue for many restaurants and for some Restaurants it is the main source of revenue.  Take out revenue is great because each take out customer is a lot easier to serve, there is no wait staff, no linen charges and because they don't take up a table, they don't limit your maximum revenue for a night.
Why Competing against Menulog and others is so important?
This source of revenue is increasingly becoming under attack as companies around the world try to put themselves in between the restaurant and their customers.  In Australia, this means that Restaurants are competing against Menulog and Delivery Hero, and throughout the world it is companies like Grub Hub, Eat 24, Just Eat and Food Panda.  We've written previously about Restaurant brandjacking and highlighted how difficult it can be for a Restaurant competing against Menulog and others.
The business model of Menulog (which is owned by Just Eat), Delivery Hero, Grub Hub and Food Panda is to create a single place where consumers can find a restaurant near them with the cuisine that they want, facilitating online orders and in return receiving a commission, sometimes in excess of 10%  It is important to understand that these businesses are business to consumer businesses, they use the Restaurant for service fulfilment, ie providing food to the customer.  There business is about building a complex database about each persons online ordering habits, frequency and preferences so that they can better market to them.  This is why they never share the email addresses of the customer with the restaurant from which they are ordering.  They don't want the customers to be getting emails from all of the restaurants in the area, they want to be able to control that messaging.  This gives companies like Just Eat and Grub Hub enormous power.  They are able to dictate which restaurants get orders, either by which emails they send out on behalf of restaurants, or the order in which the Restaurants appear in search results.  We are also seeing a significant trend in Australia where Menulog and Delivery Hero will create fake websites with the URL of RESTAURANTNAMESUBURB.COM.AU and run marketing campaigns through adwords to promote this website.  It means that the order comes direct to the Online Ordering company, creating the impression for the restaurant that most of the orders are coming from Menulog when in reality the Restaurants customers are tricked into ordering from Menulog.  We believe that this is unethical and possibly misleading and deceptive conduct.
We have also seen examples of restaurants who aren't our existing customers contacting us because their regular Menulog order volume, which may be $2,000 to $4,000 has decreased to less than $200.  This often occurs because Menulog does a deal with another Restaurant to promote them ahead of existing restaurants in return for higher commission.
Lastly, we think that given the sky high valuations these companies attract, they will be forced to vertically integrate by following the Trend towards Factory Kitchens, where 5 to 10 brands will operate out of 1 kitchen run in a factory.  There are significant benefits from the economies of scale, much lower costs from the lease and kitchen fitout, there is no fitout for the front of house as they will probably just do delivery.  These businesses will be incredibly cost efficient and with a database of all of your customers preferences and email addresses, they will be able to market very effectively.
Many of these companies are worth billions of dollars and every day Restaurant owners we talk to feel powerless to compete against Menulog and the others because they don't have the skills or resources required to compete against Menulog.
1.  Use your own Online Ordering system on your website
This is the most important thing that a Restaurant owner can do.  If taking online orders is part of your business model, then you will want to be taking them yourselves using a platform that is low commission, provides you all of the details of the customer and pays you quickly.  Our Free Restaurant Online Ordering widget,  is free to use, (with a small credit card fee from the payment gateway, Stripe), provides full details in a database for you to market to and pays in just 4 days, much quicker than Menulog.
Our Free Restaurant OnLine Ordering System has, for the first time, given Restaurants the opportunity to take online orders direct from their website or from Facebook, without sharing customer details and without having to pay high commissions.  Now Restaurants are able to compete on their own terms and look after their own customers, without having to use a third party which is trying to take the customer data.
2. Do you own marketing for online orders
If you are still listed in the Online Orders companies,  you can expect that they will be marketing against you so that they can get your customers to order through their channels so that they can charge you commission.  Menulog will use Google adwords and may even set up a website which appears to be your website, but is in fact a Menulog website, purporting to be your website, so you will need to do some creative marketing.  We recommend Facebook marketing, because of the targeting that is available based on demographics and retargetting visitors to your website.  Also, with Menulog spending heavily to purchase customers searching for your Restaurant, it can be very expensive to use Adwords.
If you discover a website which you believe is attempting to pass itself off as your Restaurant, you should contact the owner and get it taken down.  If it is misleading and deceptive conduct, then it is illegal and you should be able to protect yourself and your customers from accidentally ordering from a website that is not yours.
3.  Go "Off Grid"
Many Restaurant owners fear not being represented by online ordering and online booking companies, but some Restaurants survive and some even thrive by being "off grid", and not listed in Menulog, Delivery Hero, or Grub Hub.  These are the Restaurants who genuinely create great food, experiences and provide great value.  They have their own email database, are active on Facebook.  In general, these restaurants are able to charge more because they aren't competing with all of the other Restaurants who are listed in places like Open Table, Dimmi or Delivery Hero.
This means that when a customer, one of your customers, wants to order online food, they will be forced to order directly from you, saving you commission and also giving you added visibility as to who your customers are.  It is actually the way that the customer wants it.  Many customers feel bad that they are incurring fees for you when they order through an online ordering company, so they welcome the opportunity to order directly from you.
The other major benefit of going off grid, is that Menulog will no longer advertise against your Restaurant name, because customers looking for your Restaurant will not be able to find it in their directory.
I recently spoke with an Accountant who was planning to go off grid, because he saw that the 15% commission that Menulog was charging was unsustainable and a disincentive to grow online orders.  As an accountant, he was focused on increasing the bottom line and he saw a commission free online ordering system as the simplest way to do this.
4. Build your email marketing database.
Using an online ordering system that provides you with emails addresses is critical to increasing the number of times that a customer purchases from you and to drive them towards the quieter times of the week.  We have done a Restaurant Email marketing podcast, and also written about some of the Restaurant email marketing best practices that we have seen.  A lot of the success of email marketing, and the hardest part to do often, is to actually collect the email addresses.  We had one customer who was pleasantly surprised to find that he had 1,500 emails in our database which we had been collecting for him.  If you don't start with FROLO today, then you haven't started collecting those emails today.
5.  Facebook marketing for building online orders.
Facebook provides a very rich and cost effective database for Restaurant owners to use, if they don't have their own email marketing database.  It is fairly simple to use, so that most Restaurant owners can run their own campaigns, set to run at the times where people are beginning to think about what they are going to eat and well run campaigns can acquire new customers for sometimes less than $1.  Best of all, you now have their email address so that you are able to email them with offers to increase utilisation on quiet nights and the overall number of times that they order from you.
6. If you can't beat them, join them.
Some Restaurants are outsourcing their entire marketing effort to companies like Menulog, Just Eat, Delivery Hero and Food Panda.  Some are having a great experience with it, we think some have had a great experience, but not so great now and some have really struggled with this strategy.
To work well with Menulog, you need to be able to continuously discount, because Menulog is not too interested in someone who is going to order tonight, they are much more interested in who MIGHT order tonight.  In our house, Friday night is Take Out night, so if we have it in a week, it will be on a Friday night, so there is little point in marketing to us.  (Good news is when we have Chinese, we have a great Chinese Restaurant in Narre Warren, who DOESN'T use Menulog 🙂 ).  So if Menulog can send an offer out for 30% on a Tuesday night, they are much more likely to sway people who were thinking about ordering out to actually make that order.  It decreases the average commission charged, but it does create an extra order.  Smart marketing means they can send the offer to only those who are unlikely to order this week so that they are cannibalising sales.  This is what Big Data for Restaurants can do.
To be able to play in this game, each restaurant needs to be ruthless with costs.  Ruthless cost control, ruthless inventory control, ruthless with systems and processes and ruthless with wages.  Anything else means that the Restaurant down the road will be able to offer a better discount and will receive the majority of the orders.
Discounting is always perilous because some restaurants are born unprofitable but the owner just doesn't know it.  They see discounting competitors and they see kitchen with no work so they will discount further.  You offer 20%, they offer  30%.  You offer 30% they offer buy one get one free (50%!).  You can't economically compete against an uneconomical customer.  If Just Eat does decide to compete direct against Restaurants with Factory Kitchens, they will be able to be cheaper again.
The decrease in quality forced by the cost curve will also mean that the Restaurant will cater for a certain clientèle, those looking for a cheap curry, not necessarily a good one and this goes against the grain of why most Restaurant owners started they restaurant for in the first place, to be proud of providing great food for their customers.
So using Menulog, Delivery Hero or Grub Hub may be a strategy but in the long run you end up without a customer database in a very fierce part of the market.
Why online orders are so important for Restaurants
 Takes the limit of revenue off the number of tables through to the capacity of the kitchen.  This can mean a large difference in revenue.
Take out orders are high margin orders.  There is little front of house involvement and the only added cost is delivery, which is generally not a large cost as a percentage of the gross margin.
It gives an opportunity to service customers who do not want to eat in, but still want to enjoy your food.
It increases the efficiency of the kitchen by increasingly the number of dishes that are cooked, creating financial efficiency.
It can lead to decreased food costs as larger orders to suppliers allow you to negotiate better rates.
This guide has shown you how to complete with the various online ordering companies which are trying to come between you and your loyal customers.
If you are looking to cut the costs of online orders or want to get the email details of your customers automatically, try the Free Restaurant OnLine Ordering system today.  It is quick and easy to setup (we can help you!) and you could be receiving your first online order in less than 24 hours)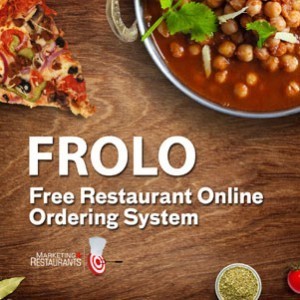 Take Out is an important revenue stream for many Restaurants. There is less work front of house in serving the customers and you aren't limited by the number of tables you have. Taking orders online decreases errors, frees up a staff member to serve customers rather than answer the phone and most importantly, it builds your Database. Many businesses offer online order tools for Restaurants, but nearly all of them want to clip the ticket on the way through, some charging 10% and they also take your loyal customers contact details. We think this is unfair and that's why we built FROLO, the Free Restaurant OnLine Ordering system. Start taking orders on your website today. It's quick and easy and best of all, it's free. FROLO is the perfect alternative to Menulog, Just Eat, Grub Hub, Delivery Hero, and Eat 24.
---
Is Poor SEO Killing Your Restaurant?
Too many times we see customers with websites that are costing restaurants thousands of dollars every month through poor design, poor messaging and poor SEO. If your website could be improved to bring in 200 extra visits per month and just 10% of those made a booking, and each booking was for 2.5 seats on average at $50 a seat, you would have an extra $2,500 in revenue a month. A 30% food cost, that is $1,750 in profit extra a month. This ignores those customers coming back as regulars – which is more profit.
Remember, if these customers aren't finding your Restaurant, they are finding your competitors.
Get one of our obligation free 7 point website SEO audits to see what you can get your web developer to fix to increase your revenue today.