BRW has an interesting article with the history of Dimmi and online bookings in Australia.  It is entitled Dimmi vs Goliaths – how the restaurant booking app held out for the best offer.  The article raises a number of questions.
Live Bookings evidently attempted to muscle into the Australian business early in the life of Dimmi, according to the article.  Dimmi was just 3 years old and had 1,000 restaurants.  Premutico rebuffed the offer even though he only had 1 month of runway left.  Dimmi kept growing to 2,500 customers and was able to raise $10,000,000 from Telstra and Village Roadshow among others.
The Dimmi business model is to create a network of referrers for restaurant bookings and clip the ticket on the way through.  It also offers a widget that Restaurants can put on their website to take bookings themselves.  It was charging $3 per seat for each booking made through the network and $1 for every seat made from the Restaurants own website.  It retained the customers email address, allowing them to send out discount offers to other restaurants that consumers were likely to take up based on prior dining habits.
All of the bookings data provides a very rich source for data mining and offer optimisation, allowing Dimmi to operate as a kind of Groupon by stealth, with many restaurants seduced by the prospect of a large number of customers coming in for a 50% off coupon meal.  Tragically, just as with Groupon, many of these customers were bargain seekers loyal to Dimmi and not to the restaurant and repeat business can be very hard to find with these customers.
Freshly cashed up, Dimmi grew it's team to 30+ but the cash burn increased dramatically without an commensurate increase in sales.  During this period, Restalo entered the Australian market.  They had a very similar business model and attempted to buy out Dimmi.  The team at Marketing4Restaurants was also very worried, as Restalo itself has raised $10,000,000 to enter the Australian market, probably on the strength of the fact that OpenTable was not active in Australia.  One of the main factors we believe for the failure of Restalo in Australia was that they were not offering anything new in their business model, it was a very similar solution to what Dimmi offered.
Meanwhile, Dimmi inked a deal to resell Resdiary in Australia.  Resdiary is table management software and a strong competitor to OpenTable.
The Telstra money ran out over the space of 3 years, which works out to be a fairly spectacular cash burn rate of around 300,000 a month.  The team had grown to over 30 and all of the advertising would have cost a fortune.  Receivables was also an issue, with many Restaurants unhappy at having to pay for no shows who had booked.
The team was pruned back, the advertising cut back as well and more money was needed to be raised.  Dimmi transformed from making money by clipping the ticket to reselling Resdiary.
One of the big problems was the lack of ability in building the Dimmi network to the point where it was important to Restaurants.  Partners have come and gone, partially due to competition, with Dimmi partnering with review sites and then launching their own reviews which they branded as "trusted reviews".  This created competition with what had been their partners.  Eatability ended up closing and Urbanspoon was sold to Zomato.
Many Restaurants found that less than 10% of bookings where coming from the network, which meant that the vast majority of bookings were coming from their own website.  Restaurant owners who understood the process resented having to give email address to Dimmi, which Dimmi would send Flash deals to.
We suspect that revenue increased with the Resdiary deal, but not enough to make Dimmi cashflow positive.   A further raising was attempted, but Telstra appeared reticent to support the business model further.
At the start of 2015, Lisa Hasen left Dimmi and took a role at OpenTable.  It would have been an obvious move for OpenTable to purchase Dimmi, but we can only speculate why the massive US company was not able to do a deal with Dimmi, or if a bidding war ensued with eventual purchaser, Tripadvisor.
We think  that there was significant pressure from Telstra on Dimmi either to exit or to start turning a profit.  We are unsure if they ever became cash flow positive.  Tripadvisor may have just come along at the right time.  The purchase price may have been below $10 million and possible significantly less than that.  Dimmi had been unable to grow it's customer base from 2,5000 before it received the investment from Telstra.  This inability to grow customer numbers would have removed any price premium for Dimmi as a growth stock and the fact that it was still loss making suggests that Tripadvisor may have picked it up for a steal.  We are pretty confident any deal would have been contingent on confidentiality to protect Telstra from the media trumpeting another loss making investment.
The transition to reseller of Resdiary has been painful for Dimmi.  Some of our customers have mentioned decreasing commission for seats booked, as low as 70 cents as Dimmi tries to retain a stranglehand on booking revenue, in face of competition from Zomato, Respak (recently purchased by Opentable) and of course our Free Online Restaurant Booking service.  As more and more Restaurants look to cut costs and retain their customer contact detals, moreand more are turning to the Free Online Restaurant Booking system (FORBS) to handle online bookings quickly and easily.  Our FORBS has taken over 200,000 seats booked and is growing at 3% per month.
It will be interesting to see what Tripadvisor will do with Dimmi in the future in an effort to turn around the fortunes of the company as it continues it's transition in a notoriously difficult market.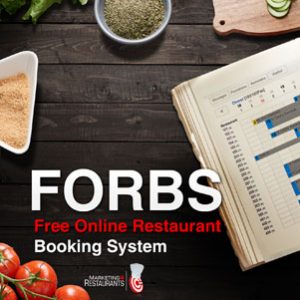 If you take bookings for your Restaurant, you should ditch the old fashioned book and start taking bookings from your own website. This is one of the quickest ways to build a restaurant marketing database. Taking Restaurant bookings online allows you to take bookings 24 hours a day, cuts down on errors, saves staff time and best of all, it builds your Restaurant Marketing Database. Don't use an online Restaurant Booking system that charges you to take bookings from your own customers, and never share you customer details with other customers. With our Free Online Restaurant Booking System, taking restaurant bookings online has never been easier, and like FROLO, best of all it's free.
Our FORBS has taken over $15,000,000 worth of bookings for Restaurants.
---
Is Poor SEO Killing Your Restaurant?
Too many times we see customers with websites that are costing restaurants thousands of dollars every month through poor design, poor messaging and poor SEO. If your website could be improved to bring in 200 extra visits per month and just 10% of those made a booking, and each booking was for 2.5 seats on average at $50 a seat, you would have an extra $2,500 in revenue a month. A 30% food cost, that is $1,750 in profit extra a month. This ignores those customers coming back as regulars – which is more profit.
Remember, if these customers aren't finding your Restaurant, they are finding your competitors.
Get one of our obligation free 7 point website SEO audits to see what you can get your web developer to fix to increase your revenue today.