There has been significant discussion recently about some of Dimmi's nefarious practices, but this one is actually pretty hilarious.  Customers finding the Dimmi page for Brae, Dan Hunter's restaurant in rural Victoria, which was recently voted the 44th best restaurant in the world,  are directed to 4 other restaurants which are "alternatives" to Brae.  The number 1 alternative in all of the Dimmi network is……… what for it………. Switch Lifestyle in Fountain Gate.
There is nothing wrong with Fountain Gate, but it probably wouldn't be anyone's first choice as an alternative to Brae.  Ben Shewry's Attica or Shaun Quade's Lume would be good alternatives, however,  Fountain Gate, the fictional setting of much of the Kath and Kim TV show on ABC, is not renowned as a Michelin Restaurant foodie destination.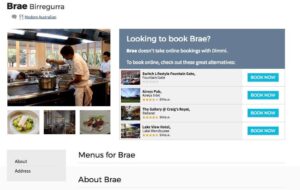 Whilst on the face of it this is quite funny, but it highlights a significant risk to restaurants.  Dimmi of course is trying to convert diners to restaurants who use their system so that they can clip the ticket on the way through.  The fact that Dimmi is recommending a family restaurant in Fountain Gate as an alternative to Brae, highlights the lack of sophistication in their recommendation engine, but what if the recommendation had been good?  This would highlight the fact that Brae, whilst competing with other top end restaurants, also competes against Dimmi.  This is something that we believe certainly isn't good for Brae, but it probably isn't good for the industry in general.
It is worthwhile seeing if your restaurant is listed on Dimmi, and what Dimmi thinks are good alternatives to your restaurant.