With the recent listing in the UK of Deliveroo, we look at the Deliveroo business in Australia along with the other Restaurant Delivery Aggregators to see what the next 12 months will hold for them and for Australian restaurants.
The listing, which saw a poor opening day with the stock closing at 287.45, down from an issue price of 390p. Concerns have been documented about the labour practices used by Deliveroo and other Restaurant Delivery aggregators, but we beleive that there may be more fundamental reasons that they have struggled.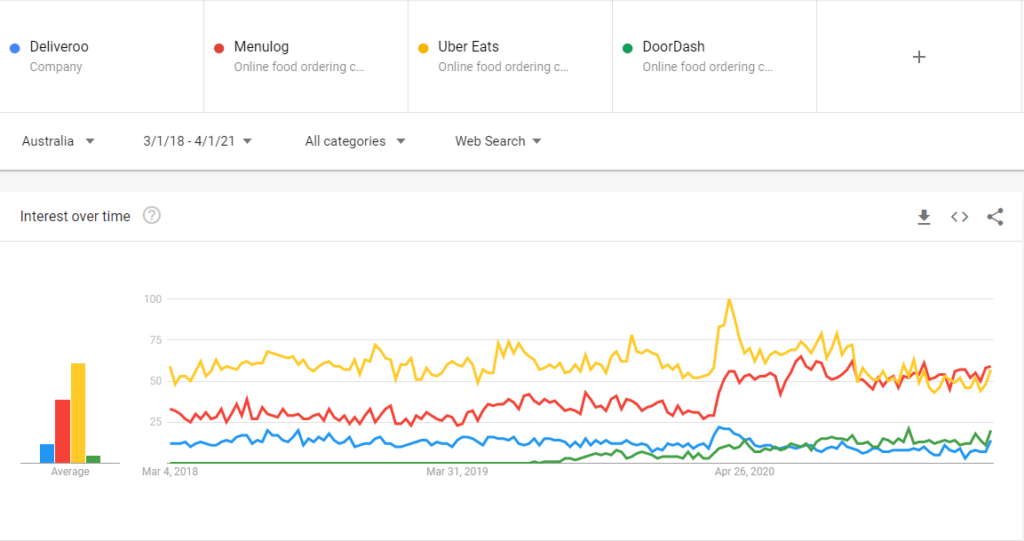 Deliveroo in Australia
Deliveroo in Australia seems to be the zombie business in the Restaurant industry, refusing to die. We have previously spoken about how Deliveroo is coming 4th in a 2 horse race in Australia, and the situation does not appear to have changed.
Deliveroo opened up in Australia in 2015, ahead of Uber Eats, but was rapidly overtaken by it's much larger competitor. It was able to overtake Delivery Hero and Delivery Hero was forced to leave Australia, finding it unsustainable to operate here. Given the size, the small number of high density living cities (giving larger markets within a timely delivery radius) and the difficulty in building a 3 sided market, it is likely that Australia is large enough for 2 delivery aggregators, and possibly only 1, given the huge competition from Domino's Pizza.
Risks to Deliveroo in Australia
This is the list that we see as the critical risks that Deliveroo are seeing in Australia. Many of these risks remain extant in other markets.
Lose of major Customers
Domino's Pizza is the Delivery King of Australia, with very, very strong brand recognition, ability to deliver, and a strong legal (not perfect, but strong) framework for employment. It may only be a matter of time before chains like McDonalds, Hungry Jacks and KFC look to build out their own delivery network. This will become critical as they evolve their customer relationship models and start to look at the risks from vertical integration and the customer data that aggregators collect about the Restaurants' customers.
Legal Action
Uber in the UK recently had a set back with their hiring agreement for their drivers. This is yet to flow onto Uber Eats, but we believe that it is only a time before deliver riders are looked at more closely to see if they really are independent contractors. There are multiple challenges in multiple jurisdictions around employee status.
Some governments are also seeing that 'Gig' workers are displacing full and part time workers as Restaurants see that it is easier and cheaper to employ a delivery rider and therefore lay off their delivery team. If Deliveroo was forced to pay minimum wages and benefits it would dramatically increase costs, costs for a business which is already losing a prodigious amount of cash.
Ethical Investing
As more investors, particular Super fund investors are looking at issues like the environment, social good and morality, more investors will look at the impact on restaurants, the increase price for customers and the negative social impact of paying below award wages. We believe that this will decrease the valuation of restaurant delivery aggregators.
Competition
The entry of DoorDash into Australia in 2019 confounded many industry experts with the market clearly not big enough for 4 or even 3 competitors, however what is even more confounding was the ability of DoorDash to overtake Deliveroo and relegate it to 4th position. This is clearly unsustainable – Deliveroo does not publish country figures in its annual reports, but anecdotally from Restaurant owners, Deliveroo is not doing well at all with declining popularity with customers. Trying to create a 3 sided market, riders, restaurants and customers is extremely difficult and winners benefit from the network effect of more customers, riders and restaurants – those at the bottom struggle significantly. This is what is happening with Deliveroo.
The graph below highlights the lack of progress against Australia's number 1 Restaurant delivery company, Domino's Pizza. As chains like McDonalds, KFC and Hungry Jacks look to replicate the customer experience and profitability of running their own delivery teams, we see the competition only getting fiercer.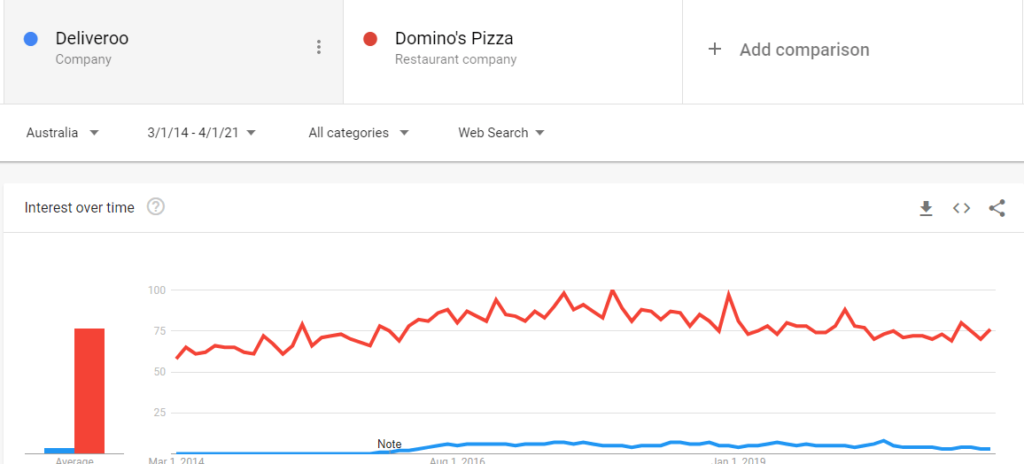 Fundamentally unprofitable business model
Deliveroo in 2019 managed to decrease their loss to 41% of their revenue, down from 48%. This is still a fundamentally unprofitable business model.
Restaurants have the opportunity to dual or triple hat delivery staff, with them also working front of house and back of house. The potential requirement to pay proper wages and benefits may mean that the delivery aggregator model main never be profitable. Added to this is customer churn as great restaurants focus on 'Order direct and save' campaigns and we think the model may never be profitable.
Roofoods last released financials only have the Australian business valued at £46. It appears that it required £20,338,346 in 2019 to be supplied by Deliveroo UK to keep the Australian operations running. This was the largest contribution of any of the overseas operations. It may well be that Deliveroo is the worst performing company within the group. With the company now listed, there will be greater focus on profitability and therefore we think greater drive to either fix the Australian business or close it down.
Changing public attitudes
Many consumers are still unaware that Deliveroo changes 35% commission to Restaurants. Whether this cost is past on or worn by the Restaurant, most consumers see this as unfair and they are often very responsive or 'Order Direct and Save' campaigns. This allows restaurants to retain high margin customers with lower customers and provide the customer with a lower cost. For price-conscious customers, they will look to be able to order directly from the aggregator.
Innovation
Deliveroo makes a point on their website about discussing their innovation, with one of the innovations being their Deliveroo Editions kitchens. We think these Dark Kitchens represent a fundamental risk to the Restaurant industry as Deliveroo looks to vertically integrate their business, using the data about customer demands and purchasing patterns to deliver their own Dark Kitchens, cooking the food, probably with cooks paid piecework rates.
Deliveroo's big innovation is the ability to pay below award wages, which is nothing to be really proud of. Deliveroo states that it is offering flexibility for it's workers. If you are a bike rider looking to train 20 hours a week, then worker as a delivery rider is excellent. If you are struggling to find work and delivering for Deliveroo is the only option that you have, then it isn't really flexibility, it is much more about the job of last resort. This is where the claims of dystopian future of work have their basis.
Order Direct and Save
An increasing number of Restaurants are running 'Order Direct and Save' Campaigns, either driving customers to pick up, or using their own delivery team to service the customers. This isn't a huge step for restaurants with Pizza Restaurants providing delivering for over 60 years.
Many Restaurants are now using their POS system or Restolo to drive customer orders, either pick up only or delivery or both to increase margins, increase loyalty and customer purchase frequency.
Help for Restaurants
If you are struggling to make your restaurant profitable when working with delivery aggregators, have a listen to our Online Ordering Profitability podcast. These 2 episodes were very popular with thousands of Restaurant owners around the world listening and using the tips and tricks discussed in the episodes to increase their profitability. You can also reach out to the team or sign up Restolo. We help Restaurants find new customers and turn them into repeat customers and online ordering is a large part of that. We have generated millions of dollars of orders for restaurants around the world.
A
---
Is Poor SEO Killing Your Restaurant?
Too many times we see customers with websites that are costing restaurants thousands of dollars every month through poor design, poor messaging and poor SEO. If your website could be improved to bring in 200 extra visits per month and just 10% of those made a booking, and each booking was for 2.5 seats on average at $50 a seat, you would have an extra $2,500 in revenue a month. A 30% food cost, that is $1,750 in profit extra a month. This ignores those customers coming back as regulars – which is more profit.
Remember, if these customers aren't finding your Restaurant, they are finding your competitors.
Get one of our obligation free 7 point website SEO audits to see what you can get your web developer to fix to increase your revenue today.