UPDATE – we've completed a 2019 Report with up to date information around the legal issues and the entry of DoorDash.
The Delivery Wars – Menulog vs Uber Eats and Deliveroo is a vicious fight for market share in Australia.  As we move into 2019, the Restaurant industry is closely watching who is going to win the Delivery Wars so we compare some Google Search Traffic data to make some predictions about the marketing in Australia.
What does the Menulog vs UberEats vs Deliveroo graph show?
The data in the graph is Australian Search Terms for the last 5 years and highlights the significant market lead that Menulog had, being the first to market, in Australia for online ordering, having no competitors at all until late 2015 when Deliveroo started to be searched, followed by Foodora and finally the entrance of Uber Eats into the Australian market.
October 2016 really saw Uber Eats start to accelerate their growth, over taking Deliveroo and both Uber Eats and Deliveroo cementing their lead over Foodora.
July 2017 was a crucial time in the Delivery Wars, especially for Menulog vs Uber Eats.  It saw Uber Eats and Menulog equal in terms of Google Searches.  Since then,  Uber Eats has accelerated to first place, there has been no change in the search frequency rankings since then, with the ranking being:
Uber Eats
Menulog
Deliveroo
Foodora
Foodora never really stood a chance.
Foodora's search queries started in March 2016, before the entrance of Uber Eats.  It never managed to overtake Deliveroo and it was over taken by Uber Eats in September 2016 and Uber Eat's lead was a lead that Foodora was never able to challenge.  August 2018 saw a spike in Foodora traffic when it announced that it was leaving Australia, and now it's residues searches are usually associated with the court cases bought against it by the Fair Work Ombudsman.
The Australian food delivery market was never big enough for 4 competitors, probably not big enough for 3 and maybe not big enough for even two, given the difficulties in logistics and the 3 sided nature of the market for deliveries.
What about the Menulog vs UberEats battle?
Since July 2017, when Uber Eats and Menulog where equal in terms of search, Uber Eats search volume has increased roughly 50% whilst Menulogs search volume has collapsed 50% to the point where there 2.5 searches for Uber Eats for each Menulog Search.  The value proposition both for customers and Restaurants from Uber Eats saw it receive as much search traffic as Menulog in just 15 months.
This is probably related to the dominance that Uber Eats has in the highly populated areas in the Capital Cities.  Menulog's business model has been caught in the crossfire as Restaurants either decide to take back their online ordering to save costs by using Free Restaurant OnLine Ordering systems, and espeically running 'Order Direct and Save' campaigns, or they have been getting Uber Eats to do the delivery and not have to worry about the logistics components.  It is not certain what percentage of Menulog customers are using the app, but it is unlikely that app users are responsible for more than a slight decrease in search term volume for Menulog.
What does this mean for Deliveroo?
Menulog's performance may be quite important for the long-term success for Deliveroo.  As one of the listed Online Ordering companies, it may be seen as a proxy for the growth valuation of Deliveroo.  If Deliveroo was to attempt to raise funds, it may find it increasingly difficult to, given the public difficulties that Menulog is currently experiencing.  Because Deliveroo is not a listed company, it's reporting requirements are a lot less.  There is interest in the industry in consolidation with the rumours of an Uber Eats bid to buy Deliveroo.
Our predictions for the Australian Restaurant Delivery market in 2019.
There are 2 outcomes that could signficantly impact the market.  Firstly there is the risk that one of the overseas parents will cease funding loss making operations.  Deliveroo UK spent millions supporting Deliveroo's push into Dark Kitchens.  Menulog, which was purchased for AUD $865 million, but they have already written down the investment by $321,000,000, so it remains to be seen what appetite there remains in what in the grand scheme of things is a small market.
Secondly, there is the risk of legal action.  It appears that the impetus for the voluntary administration of Foodora was legal action from unions and the Fair Work Ombudsmen, and if these rulings following through to Uber Eats, Deliveroo and/or Menulog with their late to the party delivery option, it could see significant costs and may make the business models fundamentally unprofitable.
If neither of these occur, we predict that 2019 will see continued losses for the delivery aggregators, and 2020 seeing the 3rd place company leaving Australia.  Currently this is Deliveroo, but it would deliver a lot more than Menulog, and Menulog is a long way behind in terms of delivery. We expect to see the number of Restaurants decline to use their online ordering only option, especially when free alternatives exist, such as our FROLO, the Free Restaurant OnLine ordering system.  Some Restaurants are saving over $1,000 a month by not paying to take online orders on their own website and we expect to see this trend to accelerate.  It would not surprise us to see Just Eat to leave Australia in 2020 unless they can dramatically turn around the performance in 2019.  Globally, the industry has a history of trade sales or closures for players in the number 3 spot, and we expect that to be Menulog in 2020.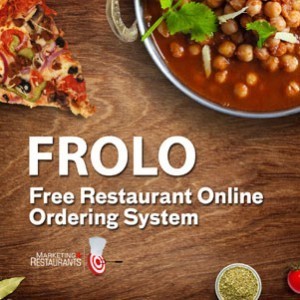 Take Out is an important revenue stream for many Restaurants. There is less work front of house in serving the customers and you aren't limited by the number of tables you have. Taking orders online decreases errors, frees up a staff member to serve customers rather than answer the phone and most importantly, it builds your Database. Many businesses offer online order tools for Restaurants, but nearly all of them want to clip the ticket on the way through, some charging 10% and they also take your loyal customers contact details. We think this is unfair and that's why we built FROLO, the Free Restaurant OnLine Ordering system. Start taking orders on your website today. It's quick and easy and best of all, it's free. FROLO is the perfect alternative to Menulog, Just Eat, Grub Hub, Delivery Hero, and Eat 24.
---
Is Poor SEO Killing Your Restaurant?
Too many times we see customers with websites that are costing restaurants thousands of dollars every month through poor design, poor messaging and poor SEO. If your website could be improved to bring in 200 extra visits per month and just 10% of those made a booking, and each booking was for 2.5 seats on average at $50 a seat, you would have an extra $2,500 in revenue a month. A 30% food cost, that is $1,750 in profit extra a month. This ignores those customers coming back as regulars – which is more profit.
Remember, if these customers aren't finding your Restaurant, they are finding your competitors.
Get one of our obligation free 7 point website SEO audits to see what you can get your web developer to fix to increase your revenue today.