Many Restaurants are creating Great Food, providing Great Value and a Great Experience, but without Great Marketing, many a Great Restaurant is destined to close and fail.  To help Restaurant Owners better find new customers and turn them into repeat customers, we analysed the data from July 2014 for all of our customers websites to work out where the traffic comes from and which are the best sources for new customers.  This report builds on our 2013 restaurant website traffic report, ranking the largest restaurant referral sources.
47% of traffic to a restaurant website comes from Google alone.
23% is Referral traffic which is traffic from other websites.
30% is direct.  Direct is either a visitor typing in the URL directly or the result from an email campaign.
With just under half of the traffic coming for Google alone, it clearly is the most important source of visitors to a restaurant website and highlights the importance of having a website in the first place, so that Google can find you, and also so that Google has a good understanding of what kind of customers you serve.
Direct Traffic is traffic from people typing in the URL or an email campaign and more and more Restaurants are finding email marketing to be the most effective way to control yield utilisation and to keep their restaurant top of mind with customers.
Just under ¼ of all traffic came from other websites.  Restaurants operate in a complicated environment with many restaurant review websites wanting to control the relationship with the customer and therefore they often send minimal traffic to the restaurant websites.
Which websites are referring traffic to Restaurant websites?
Urbanspoon referred 2.9% of all traffic to restaurant websites.
Bing referred 1.5%
Tripadvisor referred .6%
Facebook referred .44%
Eatability referred .2%
Dimmi referred .1%
Truelocal referred .06%
We thought that the traffic coming from the Dimmi website was very low, so we corrected for just restaurants receiving any traffic from Dimmi and that increased the traffic to .303% of all traffic going to restaurant websites that received any traffic at all from Dimmi.  Effectively that means that 1 in every 300 visitors is referred by Dimmi.
The amount of traffic from Facebook is interesting at just .44%.  This is partially due to the rise of people who can take bookings online through Facebook and also the failure of many restaurants to effective build a community in Facebook and integrate it as part of their online marketing.  Online Marketing works a lot better when it is integrated, so referring customers from Facebook to the website and vice versa is a smart way of building a better relationship with customers.
Of the review websites, Urbanspoon was the real standout, referring just under 3% of all traffic.  This highlights the fact that Dimmi and Eatability really have a model which tries to keep restaurant traffic within their networks, but Urbanspoon is great, referring visitors to the restaurant website so that they can get a better understanding of what a restaurant offers.
The Average Restaurant Website should be getting at least 1,000 visits per month.  Some get a lot more.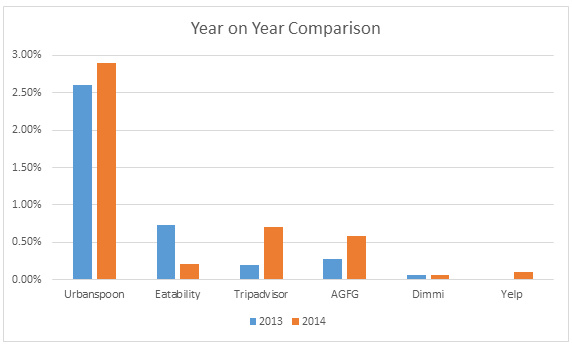 A Year on Year Comparison of Restaurant Website Traffic, detailing the changes between Urbanspoon, Eatability, Tripadvisor, AGFG, Dimmi and Yelp.
Urbanspoon has seen a 10% increase in traffic and referred just under 3% of all traffic to our restaurant websites, but Eatability has seen a significant decrease in traffic.  Tripadvisor is up off a low base, as is AGFG.  Dimmi remains at a very low percentage of restaurant traffic.
Tips for Restaurant Owners:
 Make sure you have a website.  Your website is the central part of your online marketing plan.  It makes it easy to view the menu, make an online booking and really sell your restaurant to customers.  If you don't have a website, you are missing out on all of the customers who are searching for your restaurant or a restaurant like yours.  Many of our customers get over 1,000 visits to their website per month, and many get much more than that.
Get your Website SEO right.   The text on your website should be aimed at the target markets that you have identified in your Restaurant Marketing Plan.  Getting the right text onto your site is half the battle for great Search Engine Optimisation.
Make sure your website is mobile optimised.  Over 40% of people visiting a Restaurant website are coming from a mobile phone and another 10% are coming from a tablet.  If you site isn't optimised for tablets and mobiles, you are turning away half of your customers.  (Hint – make sure you look at your site from both an iPhone and Android mobile to ensure that it looks great on both.)
Set up your Google My Business account.
Don't forget Direct.  Direct traffic to your website from your email campaigns or even offline marketing from brochures can make a massive difference to your bottom line.
Integrate.  Deconstructed Marketing works, but never as well as when it is integrated.  Make sure your Facebook account is linked to your website, gather email address on the website and drive people back to your website.  Pamphlet drops, partner marketing and events all help you drive customers to your Restaurant, Facebook page and into your Database.  This all helps to turn them into repeat customers.
Remember:  You don't want to have the best restaurant that no one has ever heard off.
Methodology:  We took the data from all of our restaurant customer's websites and aggregated it to determine what sources of traffic, and ultimately customers, works for Restaurant Websites.  We have customers who have a website with us, and also customers using our comparative analytics tools, who are not using the Marketing4Restaurants toolkit for new customers.
NB as most of our customers are in Australia or New Zealand, the results are skewed towards the ANZ market.  As we build up more customers overseas, we will start to segment the data regionally.
---
Is Poor SEO Killing Your Restaurant?
Too many times we see customers with websites that are costing restaurants thousands of dollars every month through poor design, poor messaging and poor SEO. If your website could be improved to bring in 200 extra visits per month and just 10% of those made a booking, and each booking was for 2.5 seats on average at $50 a seat, you would have an extra $2,500 in revenue a month. A 30% food cost, that is $1,750 in profit extra a month. This ignores those customers coming back as regulars – which is more profit.
Remember, if these customers aren't finding your Restaurant, they are finding your competitors.
Get one of our obligation free 7 point website SEO audits to see what you can get your web developer to fix to increase your revenue today.