The Melbourne Food and Wine Festival came and went in March. The idea of heaven for chronic foodies! As customers, the Melbourne Food and Wine Festival gives us an excuse to try new restaurants, or rub shoulders with our food and wine "stars" at educational themed events.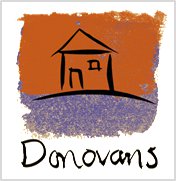 During the festival I was delighted to do a "Through the Back Door" tour of Donovan's in St Kilda. A morning with the 2 head chefs Emma and Adam in the kitchen, followed by lunch with Gail Donovan and business manager Darren.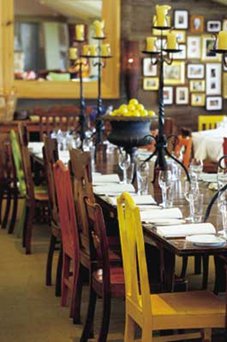 Kevin and Gail Donovan have been in the restaurant business for over 16 years, having owned the very famous Chinois on Toorak Road in the 1980's, and now Donovan's on the St Kilda foreshore. At the time, Chinois was relatively groundbreaking. It was one of the first Asian-themed restaurants not run by Asians. My uncle owned the competition down the road – another stylish Asian restaurant, but we never went to Chinois wondering "what would non-Asians know about Asian cooking?"
As it turns out, the food was only one element of the Secrets to a Successful Restaurant.
The Secret Sauce!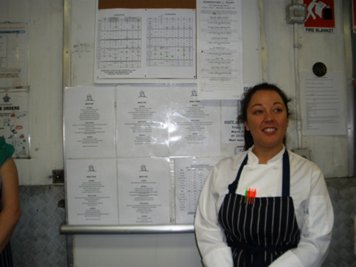 Donovan's openly shared their secrets to success and showed us through the back workings of their restaurant. Interestingly, my friend who eats out (almost) as much as I do had never been into a commercial kitchen. Two other ladies on the tour were regulars to Donovan's but were curious as to what happens behind the back scenes. I too was curious as to how Donovan's are able to continue succeeding with increased competition in an industry where business closures happen every week.
Here were a few observations to Donovan's success:
80% of their clientele are regular customers! This should come as no surprise. As a marketer I can tell you that it is harder to get a new customer (expense and effort) than to keep an existing one happy. This is an opportunity for every business that has customers! Donovan's say that some customers call themselves "regular" even though they may only dine 4-5 times a year, but then there are very regular customers who dine weekly!
They listen to their customers! We've touched on this before with the use of social media, but listening to your customers is critical. A percentage of the Donovan's menu never changes. Although they don't have seasonal menus, it doesn't mean they don't change menu items. Over the years they've discovered that regular customers like to come back for the same thing. Donovan's chefs often come up with new dishes, which are given a trial run of 2 weeks on the menu. If it doesn't sell, then Donovan's either:

a. Adjust the way it is described. Here's a hint from Gail – the word "crispy" always sells! Or
b. Move the item to another position on the menu
Ultimately, if the menu item doesn't sell, it doesn't survive.
Great Customer Relationship Management. I don't mean just having a database and blasting out emails, but actually treating their customers with respect. Knowing who they are, and what they like. Surprisingly, Donovan's still have staff in the back office taking phone bookings, follow up on queries, and accommodate requests. Gail, Kevin and Darren are active in the front-of-house greeting customers. We touched on it in our recent article on Successful restaurant marketing – why Location is not everything!where Wolfgang Puck says he makes it a point to go to every table each night and greet customers.
Donovan's say they spend very little money advertising. A number of customers are referred to the business via having good relationships with hotels, and new customers are often introduced by regular customers who invite their friends along for a meal. Word of mouth marketing!
So how does this apply to you? And where can Marketing4Restaurants' online marketing tools help?
An Action Plan for a Successful Restaurant
In today's world, the fundamentals of running a restaurant or cafe don't change. You still need great food, strong customer relationships and to listen to your customers. However, without the luxury of 10 years to build up your reputation, Day 1 starts from today!
Build your reputation to get regular clientele! If you have customers, then get to know them and treat them like GOLD! Customers don't just come in to eat, they come for an experience! It might be as simple as a regular stop on the way home from work on a Tuesday, but customers like to be acknowledged. Don't you want your place to be top of mind when they're planning on where to eat? Ask them to join your Facebook page, and keep a dialogue going! Most importantly, talk to them while they're in your business!
Listen to your customers. Feedback forms are essential. Take criticism as a "gift" – telling you what they think gives you an opportunity to fix it. Not telling you might mean they've decided to go elsewhere.
Create a personal relationship. So many restaurants and cafes treat the customer like another 'transaction'. If you have their phone number or email address, give them a courtesy call or email asking for feedback the day after they've dined. Better still invite them to join your database so you can keep them up to date with your latest promotions and news.
Happy marketing, and here's to More Customers!
Other articles you might like:
Successful restaurant marketing – why Location is not everything!
Eatability, Urbanspoon and Yelp! The power of customer generated restaurant reviews
---
Is Poor SEO Killing Your Restaurant?
Too many times we see customers with websites that are costing restaurants thousands of dollars every month through poor design, poor messaging and poor SEO. If your website could be improved to bring in 200 extra visits per month and just 10% of those made a booking, and each booking was for 2.5 seats on average at $50 a seat, you would have an extra $2,500 in revenue a month. A 30% food cost, that is $1,750 in profit extra a month. This ignores those customers coming back as regulars – which is more profit.
Remember, if these customers aren't finding your Restaurant, they are finding your competitors.
Get one of our obligation free 7 point website SEO audits to see what you can get your web developer to fix to increase your revenue today.