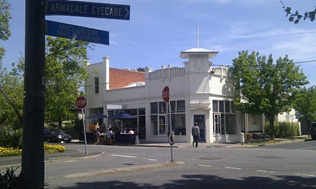 An overseas visitor recently asked me 'Why are some of Melbourne's best cafes and restaurants so difficult to find?' Her observation was based on the fact often there was little signage, and crowded cafes were located off the main road. In fact if you could say they were in bad locations!
Left: Coin Laundry – Armadale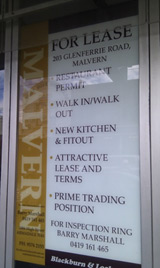 More recently, I noticed a very disturbing trend around my neighbourhood. Well located restaurants were closing down, or not fully booked out on weekends and Friday nights. Two in particular I am sad to see struggle, on what should be busy weekend nights.
One could easily assume restaurants that struggle because they have bad food, but I have eaten at both and thought they were excellent. One scored 80% and the other 94% on Urbanspoon. 

The 80% restaurant has been awarded one hat in The Age 2012 Good Food Guide, has glowing reviews, and represented by a PR agency specializing in the industry. Both restaurants are in high traffic locations, within walking distance of transport and parking.
This proves the point Location is not everything!
If you believe the news, you might conclude that the tight economy is to blame for empty restaurants and cafes. But that doesn't explain why some restaurants are busy, and others empty in the same neighbourhood.
Best Practice Restaurant Marketing encourages business owners to take control of whatever they can to bring in More Customers. Here's a checklist:
Effective online presence. I won't go on about this other than to say that 'restaurant 94%' has PDF menu, and 'restaurant 80%' is centred around flash. Also read Top 10 Mistakes for Restaurant Websites.
Create and maximise a customer database. Restaurant Industry Awards are good recognition. Unfortunately it is no longer a guarantee of success. Tony Bilson's recent restaurant closure is evidence. Advertising and awards can create Awareness, Interest and Desire, but it doesn't necessarily lead to Action. Direct ongoing contact with your customers is crucial! 'Restaurant 94%' sent me on my merry way with a 'Hope we see you again one day soon'. Hope is not a solid marketing strategy! They should have asked me to join their database to email me regular offers. Give me some incentive to visit again!
Create loyalty! I don't mean a loyalty card. Loyalty cards were first introduced by big faceless businesses like Myer, where the owners can't possibly greet each customer. Restaurants and cafes are different! US chef Wolfgang Puck who's culinary empire is estimated to generate $350million a year recently told the Wall Street Journal 'I make it a point every night to go to every table and greet them. People love it. I think it's not so much about meeting the 'celebrity chef' as it is about making a personal connection between what's on their plate and a real live human being who was responsible for it. And, by the way, it breeds loyalty.'Melbourne's Jacques Reymond does the same. I will never forget the night he came to greet us after a celebratory dinner with 3 friends. We were 'nobodies', yet he took 5 minutes to come around to each table to ask how we enjoyed the meal and was it a special occasion.You don't have to be a celebrity chef for patrons to feel special. I get the same hop in my step when the local coffee man remembers how I like my coffee and greets me with a smile.
So you're probably wondering – how does the crowded cafe around the corner create an ongoing queue of customers? Admittedly they don't email me, but they do have over 1300 Facebook Fans, 1900 Facebook check-ins and 198 Twitter Followers. The staff also greet me as a local. They know their target market well!
So the next time you look around your half-full dining room, don't jump to the conclusion that it's just because you're in a bad location. Are you following Best Practice Restaurant Marketing?
By the way, as for 'restaurant 80% and 94%' – can you guess which one was emptier last Saturday night? Yes – despite the higher customer review, it was 'restaurant 94%'! Goes to show you how proactive marketing is a MUST to survive in a highly competitive market!
Other articles you might like:
My recipe for Cheese on Toast is your recipe for disaster! 
Best Practice Restaurant Marketing – 3 Things you MUST DO NOW! 
Why did Tony Bilson's restaurant go into liquidation? 
The Restaurant with the $1000 Tweet 
---
Is Poor SEO Killing Your Restaurant?
Too many times we see customers with websites that are costing restaurants thousands of dollars every month through poor design, poor messaging and poor SEO. If your website could be improved to bring in 200 extra visits per month and just 10% of those made a booking, and each booking was for 2.5 seats on average at $50 a seat, you would have an extra $2,500 in revenue a month. A 30% food cost, that is $1,750 in profit extra a month. This ignores those customers coming back as regulars – which is more profit.
Remember, if these customers aren't finding your Restaurant, they are finding your competitors.
Get one of our obligation free 7 point website SEO audits to see what you can get your web developer to fix to increase your revenue today.